---
NAVAL AVIATION RESOURCE CENTER > SEAPLANES > PBY CATALINA > PREVIOUS PAGE

---
CONSOLIDATED PBY CATALINA
Operational History

Roles in World War II
The final construction figure is estimated at around 4,000 aircraft, and these were deployed in practically all of the operational theatres of World War II. The PBY served with distinction and played a prominent and invaluable role in the war against the Japanese. This was especially true during the first year of the War in the Pacific, because the PBY and the Boeing B-17 Flying Fortress were the only two available aircraft with the range necessary. As a result they were used in almost every possible military role until a new generation of aircraft became available.

Anti-submarine warfare
PBYs were the most extensively used ASW aircraft in both the Atlantic and Pacific Theaters of the Second World War, and were also used in the Indian Ocean, flying from the Seychelles. One of their jobs was escorting convoys to Murmansk. By 1943, U-boats were well armed with anti-aircraft guns and two Victoria Crosses were won by PBY skippers pressing home attacks on U-boats in the face of heavy fire: John Cruickshank in 1944 against U-347 and in the same year Flight Lt. David Hornell RCAF (posthumously) against U-1225. Catalinas destroyed 40 U-boats in total but suffered losses of their own. On December 7, 1941, Mitsubishi A6M fighters from Akagi attacked NAS Kaneohe Bay at Oahu, Hawaii, destroying or disabling all of the 33 PBYs stationed there.

Maritime patrol
In their role as patrol aircraft, Catalinas participated in some of the most notable engagements of World War II. The aircraft's parasol wing and large waist blisters allowed for a great deal of visibility; this, combined its long range and endurance, made it well suited for the task.

– A Coastal Command Catalina with a USN commander among the British crew which
located the German battleship Bismarck on May 26, 1941 while she tried to evade
Royal Navy forces.
– A flight of Catalinas spotted the Japanese fleet approaching Midway Island,
beginning the Battle of Midway.
– An RCAF Canso flown by Squadron Leader L.J. Birchall foiled Japanese plans to
destroy the Royal Navy's Indian Ocean fleet on April 4, 1942 when it detected
the Japanese carrier fleet approaching Ceylon (Sri Lanka).

Night attack and naval interdiction
Several squadrons of PBY-5As and -6As in the Pacific theater were specially modified to operate as night convoy raiders. Outfitted with state-of-the-art magnetic anomaly detection gear and painted flat black, these "Black Cats" attacked Japanese supply convoys at night. Catalinas were surprisingly successful in this highly unorthodox role. Between August 1943 and January 1944, Black Cat squadrons had sunk 112,700 tons of merchant shipping, damaged 47,000 tons, and damaged 10 Japanese warships. The Royal Australian Air Force also operated Catalinas as night raiders, with RAAF aircraft mounting mine-laying operations deep into Japanese-held waters. The RAAF also occasionally used Catalinas to mount nuisance night bombing raids on Japanese bases, including the major base at Rabaul. RAAF aircrews developed 'terror bombs', essentially empty tin cans filled with blunt razor blades. The high pitched screams of these falling tins would keep Japanese soldiers awake and in fear of their life.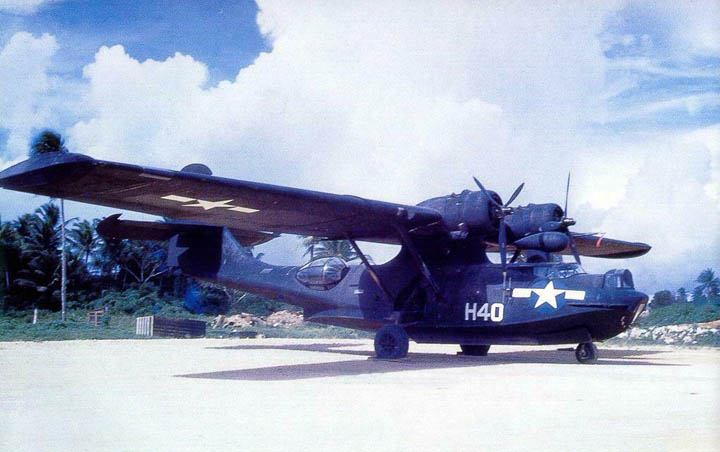 [Source: Unknown]

Search and rescue
PBYs were employed by every branch of the US military as rescue aircraft. A PBY piloted by Lt. Cmdr. Adrian Marks (USN) rescued 56 sailors from the USS Indianapolis after the ship was sunk during World War Two. PBYs continued to function in this capacity for decades after the end of the war.

Early Commercial Use
PBYs were also used for commercial air travel. Still the longest commercial flights ever made in aviation history were the Qantas flights flown weekly from 29 June 1943 through July, 1945 over the Indian Ocean. To thumb their nose at the Japanese (who controlled the area), Qantas offered non-stop service between Perth and Colombo, a distance of 3,592 nm (5,652km). As the PBY typically cruises at 110 knots, this took from 28-32 hours and was called the "flight of the double sunrise", since the passengers saw two sunrises during their non-stop journey. The flight was made with radio silence (because of the possibility of Japanese attack) and had a maximum payload of 1000 lbs or three passengers plus 65 kg of armed forces and diplomatic mail.

Post-WWII employment
With the end of the war, flying boat versions were quickly retired from the U.S. Navy, but amphibians remained in service for many years. The last Catalina on active U.S. service was a PBY-6A operating with a Naval Reserve squadron, retired 3 January 1957. It must be noted a PBY was being maintained at Clark Air Base, Republic of the Philippines, as late as 1968. The PBY subsequently equipped the world's smaller armed services, in fairly substantial numbers, into the late 1960s.

The USAF Strategic Air Command had PBYs (OA-10s) in service from 1946 through 1947.

The Brazilian Air Force flew Catalinas in naval air patrol missions against German submarines starting in 1943. The aircraft also performed air mail service. In 1948 a transport squadron was formed and equipped with PBY-5As converted to the role of amphibian transport. The 1st Air Transport Squadron (ETA-1) was based in the port city of Belem and flew Catalinas and C-47s in well-maintained condition until 1982. Catalinas were convenient for supplying military detachments scattered among the Amazon waterways. They reached places where only long range transport helicopters would dare go. ETA-1 insignia was a winged turtle with the motto "Though slowly, I always get there". Today, the last Brazilian Catalina (ex-RCAF) is displayed at the Airspace Museum (MUSAL), in Rio de Janeiro.

Jacques-Yves Cousteau used a PBY-6A (N101CS) as part of his diving expeditions. His second son, Philippe, was killed while attempting a water landing in the Tagus river near Lisbon, Portugal, June 28, 1979. His plane had just been repaired when he took it out for a flight. As he landed, one of the plane's propellers separated, cut through the cockpit and killed the younger Cousteau.

Of the few dozen remaining airworthy Catalinas, the majority are in use today as aerial firefighting planes.

China Airlines, the official airline of the Republic of China (Taiwan) was founded with two PBY amphibians.

Sources:
Wikipedia

---
NAVAL AVIATION RESOURCE CENTER > SEAPLANES > PBY CATALINA > PREVIOUS PAGE

---
HOW CAN I
SUPPORT
THIS SITE?
(Click Here For Info)
---
---
---