---
NAVAL AVIATION RESOURCE CENTER
>
U.S.M.C. ACES: 1939-1945
>
PREVIOUS PAGE
---
Gregory "Pappy" Boyington
---
Wartime Rank: Major
Service: U.S. Marines
Squadron:
– 1st Pursuit Sq./A.V.G.
– C.O. VMF-122
– C.O. VMF-214 "Black Sheep"
Victories: 28
28 Aerial Destroyed
(Includes 6 kills claimed with A.V.G.)
4 Aerial Probably Destroyed
Awards:
– Medal of Honor
– Navy Cross
Theaters: PTO

Flew Hawk 81A with 2nd PS, AVG; 22 Air Victories flying F4U Corsair with USMC. Boyington was shot down on January 3, 1944, captured and subsequently made a POW for the duration.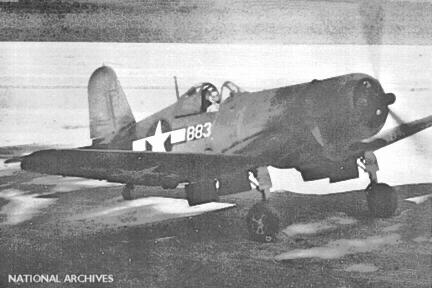 *Major Boyington's famous Corsair #86 has been widely accepted as have been used for "publicity photos" only. It is not known if this aircraft was ever flown by anyone in combat or if it was sent to a forward area at all - The 20 victory "flags" displayed on #86 were applied "slapdash" and they vary in size, position, attitude and alignment. What has come to light recently is that Boyington had given #86 the temporary name of "Lucybelle" not "Lulubelle"as it has been accepted. Boyington later gave this false information, regarding "Lulubelle", himself as he refused to acknowledge a certain "Lucy"...
---
Sources:
Many thanks to Bruce Gamble, author of The Black Sheep: The Definitive Account of Marine Fighting Squaron 214 in World War II
for his valuable concern and assistance in compiling this entry for "Pappy" Boyington.
---
NAVAL AVIATION RESOURCE CENTER
>
U.S.M.C. ACES: 1939-1945
>
PREVIOUS PAGE
---