---
U.S. NAVAL AVIATION RESOURCE CENTER
>
FIGHTERS
>
F2H BANSHEE
>
PREVIOUS PAGE
---
F2H BANSHEE IMAGE GALLERY
Flight Deck Operations.

---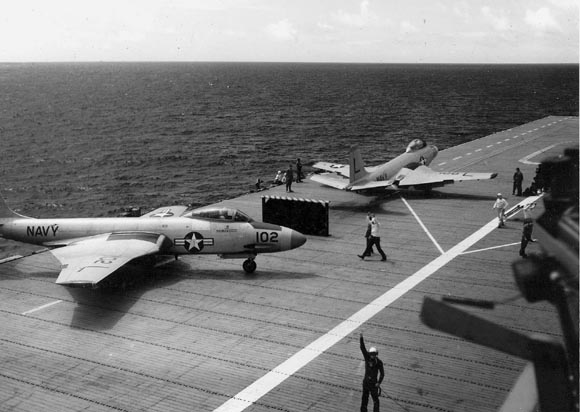 Subject: F2H-3 Banshee
Location: U.S.S. Hornet
Author: U.S. Navy
Source: NMNA
Copyright: Public Domain
WRG Ref #: 1001132

Comments:
F2H-3 Banshee aircraft of Fighter Squadron (VF) 71 pictured during flight operations on board the carrier U.S.S. Hornet (CVA 12 on June 23, 1955.

---
U.S. NAVAL AVIATION RESOURCE CENTER
>
FIGHTERS
>
F2H BANSHEE
>
PREVIOUS PAGE
---