---
LUFTWAFFE RESOURCE CENTER
>
LUFTWAFFE ACES
>
PREVIOUS PAGE
---
Helmut Wick
---


Born:
August 5, 1915
Mannheim, Germany
Unit(s):
Geschwader Kommodore
JG 2 "Richthofen"
Decorations:
Ritterkreuz mit Eichenlaub
(The Knight's Cross with Oak Leaves)
Theatre(s): Western
Victories: 56 Air
Total Sorties: N/A


---

Combat Aircraft Flown:
Bf 109
Others unclear

---
SERVICE:
Joined the new Luftwaffe, 1935. Commissioned Leutnant, 1938.
Advanced training under Werner Moelders.
Assigned to II/JG 134 flying the Arado Ar 68 biplane.
Transferred to I/JG 53 flying the Messerschmitt Bf 109, January 1939.
Transferred to I/JG 2, September 1939 in air defense of Berlin during the Polish Campaign. First two kills over France May 22, 1940.
On June 9, 1940 became the leading ace of the Richthofen Geschwader with his 12th air victory, awarded the Eiserne Kreuz I (Iron Cross, First Class) and was promoted to Staffelkapitän 3. Staffel/JG 2.Wick scored the 250th victory of JG 2 and was also awarded the Ritterkreuz (Knight's Cross), Aug. 27, 1940.
Promoted to Hauptmann and Gruppenkommandeur of I Gruppe/JG 2 on Sept. 9, 1940. With his score to 41 air victories, Wick was awarded the Ritterkreuz mit Eichenlaub (Knight's Cross with Oak Leaves) on Oct. 5, 1940.
Promoted Major and Kommodore of JG 2 "Richthofen", succeeding Major Wolfgang Schellmann who left to command JG 27.
Wick shot down his 55th victory during an early sortie on Nov. 28, 1940 to become the leading fighter ace in the world. Later in the day, on a "Freie Jagd" over the English Channel, Wick scored his 56th victory, a Spitfire. In turn his aircraft was shot down by Battle of Britain ace Flt. Lt. John Dundas of 609 Squadron, RAF. Wick was seen to bale out over the Channel, his "Geschwaderstab Schwarm" mate Hptm. Rudi Pflanz circled the area calling over the radio that a "Spitfire was down" hoping to attract British air/sea rescue. Pflanz continued to circle until his fuel was almost empty, crash-landing at landfall on his return over the Channel but Wick was never found.

---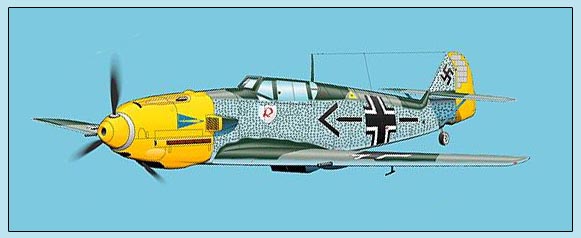 ---
REMARKS:
Helmut Wick carried his famous personal "Horrido!" emblem of a Gold or Yellow broad sword on a Blue field pennant. This was originally the emblem of 3. Staffel/ JG 2 and represented the Swedish ancestry of the Staffelkapitän Hennig Stümpel. As Gruppenkommandeur, Wick's I/JG 2 had an inspection by Feldmarshall Sperrle who chastised Wick for the untidiness of the crew personnel. As this was at the height of the Battle of Britain, Wick angrily defended the crews relating that involved in their long hours they had no time to get "a damned haircut." which was "the last word".
---
"As long as I can shoot down the enemy, adding to the honor of the Richthofen Geschwader and the success of the Fatherland, I will be a happy man. I want to fight and die fighting, taking with me as many of the enemy as possible."
-Helmut Wick
---
LUFTWAFFE RESOURCE CENTER
>
LUFTWAFFE ACES
>
PREVIOUS PAGE
---