---
LUFTWAFFE RESOURCE CENTER
>
LUFTWAFFE ACES
>
PREVIOUS PAGE
---
Franz Von Werra
---



Last Wartime Rank: Hauptmann
Unit(s): II/JG 03, JG 53
Theatre(s): WF, EF
Combat Debut: N/A
Kills: 9
Total Sorties: N/A
Decoration: N/A

---
Biography:
-
Source: Wikipedia
Franz von Werra was born on 13 July 1914, to impoverished Swiss parents in Leuk, a town in the Swiss canton of Valais. Later he and his sister were given into the care of an aristocratic German family.
In 1936, von Werra joined the Luftwaffe. At the beginning of the war, he served in the French campaign with Jagdgeschwader 3. An able officer, he became Adjudant of II Gruppe, JG 3, despite his often boisterous 'playboy' behavior and a degree of self-promotion (he was pictured in the German press with his pet lion Simba he kept as the unit mascot at the aerodrome). He also used the title Baron, although he was not entitled to it.
By September, von Werra had claimed 9 victories in combat, four in the air and five on the ground (these five victories have never been confirmed from RAF records). On 5 September 1940, during the Battle of Britain, von Werra's Bf 109 was shot down over Kent by Pilot Officer Basil Gerald 'Stapme' Stapleton of No. 603 Squadron. Pilot Officer George Bennions of No. 41 Squadron may have initially damaged von Werra's fighter before Stapleton administered the coup de grâce. Von Werra crash-landed in a field, was captured by the unarmed cook of a nearby army unit and eventually sent to the London District Prisoner of War Cage. He was interrogated for two weeks and four days and eventually sent to POW Camp No.1, at Grizedale Hall in the Furness Fells area of Lancashire between Windermere and Coniston Water.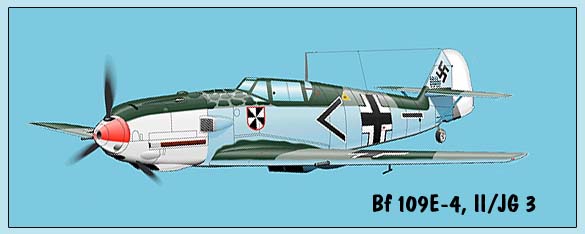 On 7 October he tried to escape for the first time, during a daytime walk outside the camp. At a regular stop, while a fruit cart provided a diversion and other German prisoners covered for him, von Werra slipped over a dry-stone wall into a field. The guards alerted the local farmers and the Home Guard. On the evening of 10 October, two Home Guard soldiers found him sheltering from the rain in a hoggarth (a small stone hut used for storing sheep fodder, that are common in the area), but he quickly escaped and disappeared into the night. On 12 October, he was spotted climbing a fell. The area was surrounded and von Werra was eventually found, almost totally immersed in a muddy depression in the ground. Von Werra was sentenced to 21 days of solitary confinement, and subsequently transferred on 3 November to Camp No 10 in Swanwick, Derbyshire.
In Camp No 13, also known as the Hayes camp, von Werra joined a group calling themselves Swanwick Tiefbau A. G. (Swanwick Excavations, Inc.), who were digging an escape tunnel. After a month it was completed, on 17 December 1940. The camp forgers equipped them with money and fake identity papers. On 20 December, von Werra and four others slipped out of the tunnel under the cover of anti-aircraft fire and the singing of the camp choir. The others were recaptured only a few days later.
Von Werra decided to go it alone. He had taken along his flying suit and decided to masquerade as Captain Van Lott, a Dutch RAF pilot. He claimed to a friendly locomotive driver that he was a downed bomber pilot trying to reach his unit, and asked to be taken to the nearest RAF base. In Codnor Park Station, a local clerk became suspicious, but eventually agreed to arrange his transportation to the RAF aerodrome at Hucknall, near Nottingham. The police also questioned him, but von Werra convinced them he was harmless. At Hucknall, a Squadron Leader Boniface asked for his credentials and he claimed to be based at Dyce near Aberdeen. While Boniface went to check this, von Werra excused himself and ran to the nearest hangar, trying to tell a mechanic that he was cleared for a test flight. Boniface arrived in time to arrest him at gunpoint. He was sent back to Hayes and put under armed guard.
In January 1941, von Werra was sent with many other German prisoners to Canada. His group was to be taken to a camp on the north shore of Lake Superior, Ontario, so von Werra began to plan his escape to the United States, which was still neutral at the time. On 21 January, while on a prison train that had departed Montreal, he jumped out of a window, again with the help of other prisoners, and ended up near Smiths Falls, 30 miles from the St. Lawrence River. Seven other prisoners tried to escape from the same train, but were soon recaptured. Von Werra's absence was not noticed until the next afternoon.
Von Werra made his way over the border to Ogdensburg, New York, U.S.A. and turned himself over to the police. The immigration authorities charged him with entering the country illegally, so von Werra contacted the local German consul. Thus, he came to the attention of the press and told them a very embellished version of his story. While the US and Canadian authorities were negotiating his extradition, the German vice-consul helped him over the border to Mexico. Von Werra proceeded to Rio de Janeiro, Barcelona, Rome and finally arrived back in Germany on 18 April 1941.
Von Werra became a hero. Hitler granted him the Ritterkreuz, and he got married. He also commented on the conditions in the German prisoner of war camps, comparing them unfavourably to British ones, which may have led to improvements for British POWs. Von Werra returned to the Luftwaffe and was initially deployed to the Russian front, but later flew fighter patrols over the North Sea.
On 25 October 1941, while serving with Jagdgeschwader 53, von Werra disappeared while on a routine patrol in the Netherlands north of Vlissingen, probably due to engine failure.

---
LUFTWAFFE RESOURCE CENTER
>
LUFTWAFFE ACES
>
PREVIOUS PAGE
---