---
LUFTWAFFE RESOURCE CENTER
>
LUFTWAFFE ACES
>
PREVIOUS PAGE
---
Hannes Trautloft
---


Last Wartime Rank: Oberst
Unit(s): JG 54
Theatre(s): Spain & Eastern Front
Combat Debut: Spain 1937
Decoration: N/A
Kills: 58
53 Eastern Front
4 Spain
Total Sorties: 560

---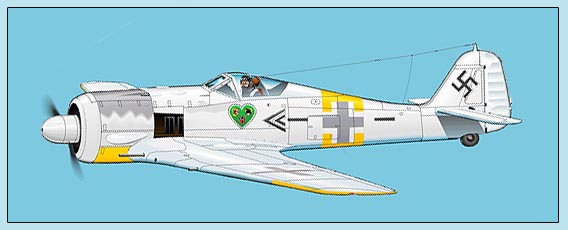 ---
Biography:
-
Source: Wikipedia
Hannes Trautloft was born in Großobringen near Weimar in Thüringen.
On 7 April 1931, he began his pilot training at the Deutsche Verkehrfliegerschule (German Air Transport School) at Schleißheim. The course he and 29 other trainees attended was called Kameradschaft 31, abbreviated "K 31". Among the members of K 31 were men like Wolfgang Falck and Günther Lützow. Trautloft graduated from the Deutsche Verkehrfliegerschule 19 February 1932. From K 31 Trautloft and 9 others were recommended for Sonderausbildung (special training). These 10 men were the privileged few and were allowed to attend fighter pilot training. During this training, he spent four months in the Soviet Union, at the secret training facility Lipetsk. Upon returning to Germany Trautloft was promoted to Leutnant. With the outbreak of the Spanish Civil War, Trautloft was one of six pilots sent aboard the Ursaramo to Cadiz to secretly aid General Franco. With them, the pilots had six crated Heinkel He 51 biplane fighters.
The men and machines arrived in Spain on 7 August 1936. Originally, they were intended to act as instructors, but the Spanish pilots struggled with learning to fly the He-51, so the German pilots soon took up combat duties. On 25 August Trautloft scored his first victory, shooting down a Republican fighter. A few days later, shortly after scoring his second victory, Trautloft was himself shot down. This was the first Luftwaffe pilot to be shot down in Spain. Trautloft escaped capture, however, and continued flying combat missions.
As the war dragged on, the Soviets sent better planes to aid the Republicans. Among these were the agile monoplane Polikarpov I-15 and Polikarpov I-16 fighters. The He-51 proved no match for these new aircraft, and after pressure from the German pilots, four of the new prototype Bf-109V3 were dispatched to the theater. Trautloft flew one of these new fighters, and scored a further three victories in Spain. Trautloft had the green heart symbolizing Thüringen painted on his plane. This symbol would later be the symbol of JG 54 once he assumed command.
Following his service in Spain, Trautloft held various Staffelkapitän positions, and at the outbreak of World War 2 on 1 September 1939 he was the commander of 2./JG 77. He commanded this squadron during the Invasion of Poland, in which he got one victory. Trautloft was promoted to Hauptmann and appointed Gruppenkommandeur of I./JG 20 on 19 September.
Trautloft got a further two victories during the Battle of France in May 1940. On 4 July I./JG 20 was redesignated III./JG 51. During the Battle of Britain Trautloft got a further two victories with JG 51, bringing his total to 10. In late August it was becoming apparent to the German High Command that the battle of Britain was not going as planned. A frustrated Göring relieved several Geschwaderkommodoren of their commands, and appointed younger, more aggressive men in their place. Adolf Galland was given command of JG 26 on 22 August, and Trautloft was given command of JG 54 on 25 August and promoted to Major. Trautloft flew over 120 combat sorties over the English Channel with JG 54, and the Geschwader earned a positive reputation among the German bomber crews. During this period Trautloft scored three more victories, bringing his total to 13.
In 1941 the Geschwader saw action in the East. First JG 54 took part in the Balkans Campaign, then Operation Barbarossa, the invasion of the Soviet Union on 22 June. On 27 June Trautloft was awarded the Ritterkreuz for 20 confirmed victories and outstanding leadership. On 4 December Trautloft ordered that all the aircraft of JG 54 would wear the Green Heart symbol of Thüringen that he himself had on his aircraft in Spain. From this date forth JG 54 became known as the Grünherz-Geschwader.
During 1942 and 1943 Trautloft proved a popular leader, and his tally rose to 58. On 6 July 1943 Trautloft was appointed as Jagdflieger Inspizient Ost, serving with the General der Jagflieger office. This position put him in overall charge as Inspector of all the Fighter aircraft units fighting on the Eastern Front. In November he became Inspekteur der Tagjäger, giving him overall responsibilities for all day-fighters.
In early 1945 Trautloft joined other high-ranking pilots in the "Fighter Pilots Revolt", protesting the squandering of the precious Luftwaffe fighters and pilots in high-loss operations like Operation Bodenplatte. Following this revolt Trautloft was relieved of his position and sent to command the 4 Flieger-Schule Division(4th Pilot School Division) in Strassburg. He spent the remainder of the war there. Trautloft ended the war as an Oberst.
After the war Trautloft joined the new Bundesluftwaffe on 1 October 1957, now with the rank of Brigadegeneral. He served throughout the 1960s as Inspector General of the Bundesluftwaffe, and retired in 1970 as a Generalleutnant. He was an active member of many veteran organizations until his death on 11 January 1995 at Bad Wiessee.

---
LUFTWAFFE RESOURCE CENTER
>
LUFTWAFFE ACES
>
PREVIOUS PAGE
---