---
LUFTWAFFE RESOURCE CENTER
>
LUFTWAFFE ACES
>
PREVIOUS PAGE
---
Günther Specht
---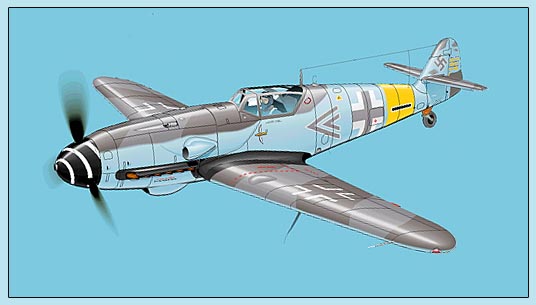 ---
RANK:
Major (later Oberstleutnant)

BORN:
N/A

EDUCATION:
N/A

COMBAT UNITS:
Gruppen Adjutant, I Gruppe/Zërstorergeschwader 26
Gruppenkommandeur, II Gruppe/Jagdgeschwader 11
Geschwader Kommodore, Jagdgeschwader 11

THEATRE(s):
Westfront, Mittlemeer, Reichs Verteidigung

VICTORIES:
35 Aerial Destroyed
- 20 Heavy Bombers
(?) Sorties

ASSIGNED COMBAT AIRCRAFT:
Messerschmitt Bf 110
Messerschmitt Bf 109G

AWARDS:
Ritterkreuz des Eisernen Kreuzes
(Knight's Cross of the Iron Cross)

---
SERVICE:
Hauptmann Günther Specht transferred to Defense of the Reich duties to become the Gruppenkommandeur of II Gruppe/Jagdgeschwader 11. During daylight bombing attacks by unescorted American Boeing B-17 Flying Fortresses on July 28, 1943, 22 were claimed as destroyed by German Jagdwaffe pilots for the day - Hptm. Specht claimed half of those! Following his 31st confirmed aerial victory, Major Specht was awarded the Ritterkreuz on April 8, 1944. After intense combat versus Allied Invasion Forces June and July 1944 over Northern France, II/JG 11 was withdrawn to Germany for R&R but quickly returned to France in August 1944.
As Kommodore of the entire JG 11, Major Specht led I, II and III Gruppen into battle during the last great German air offensive, OPERATION BODENPLATTE - The Messerschmitt Bf 109s and Focke-Wulf Fw 190s of JG 11 took off from their bases south of Frankfurt, Germany to begin their part in the ill-fated attacks on Allied continental airfields and headed toward Asch, Belgium early on New Year's Day 1945. The attack at Asch was a complete failure as the Gruppen's aircraft were virtually annihilated by American P-51 Mustangs of the 487th Ftr. Sq./352nd Ftr. Gp.
(See references to "The Legend of Y-29" at the WRG's 352nd FG Page )
and P-47 Thunderbolts of the 390th Ftr. Sqn. of the 366th Ftr. Gp. The 390th FS Thunderbolts were already in the air to begin a fighter-bomber mission and the 487th FS Mustangs were warmed-up on the flightline as the Luftwaffe fighters and fighter-bombers attacked. Jagdgeschwader 11 lost 25 pilots to all causes during the attack including Major Specht.
---
LUFTWAFFE RESOURCE CENTER
>
LUFTWAFFE ACES
>
PREVIOUS PAGE
---