---
LUFTWAFFE RESOURCE CENTER
>
ORDNANCE
>
PREVIOUS PAGE
---
PC 1400 Fritz
---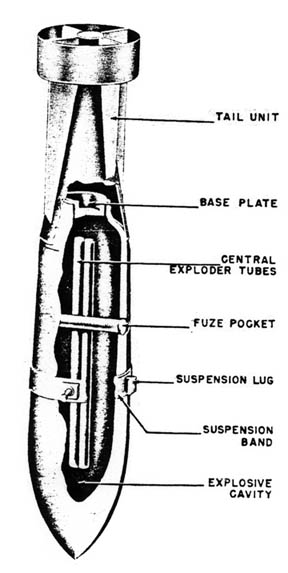 Over-All Length: 110.8 in.
Body Length: 75.7 in.
Body Diameter: 22.0 in.
Wall Thickness: 1.25 in. wall to 12.5 in. point
Tail Length: 43.3 in.
Tail Width: 22.0 in.
Total Weight: 1,400 kg

Filling: TNT and Wax; Trialen
Weight Of Filling: 300 kg.
Charge/Weight Ratio: 21.4%
Fuzing: (28) A or 35; Extension Cap III
SUSPENSION:
Suspension of the bomb in the racks is horizontal by means of an H-type lug or by two trunnions on the carrying band.
COLOR AND MARKINGS:
Sky blue over-all or sky blue with aluminum tail. Red or blue stripes or tail.
CONSTRUCTION: The bomb body is of one-piece forged steel construction. There is one transverse fuze pocket located aft of the carrying lug. Two exploder tubes containing tetryl run lengthwise through the explosive cavity just left of the fuze pocket. The base of the bomb body is closed with a male base plate. The bomb tail is of the cylinder type, the cylinder being 6 inches deep. It is constructed of either cast aluminum or magnesium.

---
All information for this entry were acquired from Army Technical manual TM 9-1985-2/Air Force Technical Order TO 39B-1A-9 GERMAN EXPLOSIVE ORDNANCE (Bombs, Fuzes, Rockets, Land Mines, Grenades & Igniters)

---
LUFTWAFFE RESOURCE CENTER
>
ORDNANCE
>
PREVIOUS PAGE
---