---
LUFTWAFFE RESOURCE CENTER
>
ORDNANCE
>
PREVIOUS PAGE
---
PC 1000 ESAU
---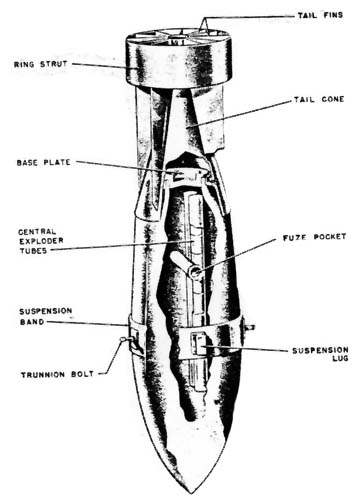 Over-All Length: 85.5 in.
Body Length: 58.5 in.
Body Diameter: 19.8 in.
Wall Thickness: 1.5 in. wall to 13.4 in. point
Tail Length: 32.0
Tail Width: 19.8 in.
Total Weight: 1,000 kg

Filling: TNT and Wax
Weight Of Filling: 160 kg.
Charge/Weight Ratio: 16%
Fuzing: (28) A or 35; Extension Cap II

SUSPENSION:
Horizontal. This bomb uses a suspension band with the H-type lug secured to it. At 90 degrees from the suspension lug in both directions are two trunnion bolts for dive-bombing.
COLOR AND MARKINGS:
Sky blue with aluminum tail. Blue stripe on tail cone.
CONSTRUCTION: The body of the PC 1000 armor-piercing bomb is of one-piece forged steel. The nose is very heavy and this construction decreases the size of the explosive cavity. There is one fuze pocket located aft of the suspension lug. Through the center of the explosive cavity is an additional exploder tube. The tail unit is constructed of magnesium alloy and is attached in the same manner as used with the SC 1000 series.

---
All information for this entry were acquired from Army Technical manual TM 9-1985-2/Air Force Technical Order TO 39B-1A-9 GERMAN EXPLOSIVE ORDNANCE (Bombs, Fuzes, Rockets, Land Mines, Grenades & Igniters)

---
LUFTWAFFE RESOURCE CENTER
>
ORDNANCE
>
PREVIOUS PAGE
---