---
LUFTWAFFE RESOURCE CENTER
>
FOREIGN BUILT AIRCRAFT
>
PREVIOUS PAGE
---
PZL P.7a
The PZL P.7 was the Polish fighter aircraft designed in early-1930s in the PZL factory in Warsaw. Adopted by the Polish Air Force in 1933 as its basic fighter; it was one of the first all-metal monoplane fighters to be mass-produced with state-of-the-art construction. However, by the end of the decade, the P.7 was obsolete and was replaced in Polish service by its follow-up design, the PZL P.11c. A small number of P.7s remained in service until 1939 and several dozen aircraft took part in the Polish Defensive War, scoring several kills.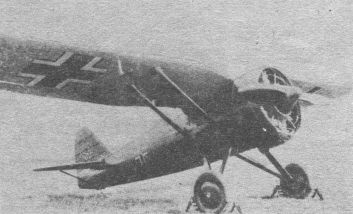 PZL P.7a used by Luftwaffe.
(V. Koos collection)
After Polish Defence War in September 1939 Germans captured some of Polish machines. Most of them were damaged or destroyed, but about one hundred planes were airworthy. Some sources report that several captured PZL P.7a fighters were used in Blindfliegschule in Schleisheim, but this info is not confirmed. At least one P.7a had German markings, but had no German camouflage scheme applied.
---
LUFTWAFFE RESOURCE CENTER
>
FOREIGN BUILT AIRCRAFT
>
PREVIOUS PAGE
---