---
LUFTWAFFE RESOURCE CENTER
>
LUFTWAFFE ACES
>
PREVIOUS PAGE
---
Walter Oesau
---



Last Wartime Rank: N/A
Unit(s): JG 51, JG 3, JG 2, JG 1
Theatre(s): Spain, France, Battle Of Britain, Eastern and Western Fronts
Combat Debut: Spain 1937
Decoration: The Knight's Cross with Oak Leaves and Swords
KIA: 5-11-44, Eifel
Kills: 125
8 Spain
32 France And Battle Of Britain
44 Eastern Front
41 Western Front (Incl. 10 4-Engined A/C)
Total Sorties: 300+ (Not Incl. Spain)

Biography: - Source: Wikipedia
Oesau was born in Farnewinkel in Holst. He joined the Heer in 1933 and served in an artillery regiment. He rose to the rank of Fahnenjunker, and started undertaking flying training in 1934. Upon completion of his training he was assigned to JG 2.

Promoted to Leutnant, Oesau joined 3. Staffel J/88 in Spain in April 1938. The squadron, commanded by Werner Mölders, took part in the Spanish Civil War and Oesau claimed nine victories during the campaign. For this he received the Spanienkreuz in Gold with Diamonds.

On 1 March 1939 Oesau joined the Stabsschwarm of I./JG 2. On 15 July Oesau, promoted to Oberleutnant, was appointed Staffelkapitän of 1./JG 20. This squadron was later redesignated 7./JG 51.

Based on the Western Front JG 51 saw relatively little action during the phoney war period. Oesau got his first World War II victory during the Battle of France on 13 May 1940. By the end of hostilities in France his tally stood at 5. Fighting on during the Battle of Britain Oesau reached 20 victories on 18 August 1940. He was also awarded the Ritterkreuz. On 25 August 1940 Oesau, now a Hauptmann, was appointed Gruppenkommandeur of III./JG 51.

On 11 November 1940 Oesau was appointed Gruppenkommandeur of III./JG 3, and he commanded this Gruppe during the invasion of the Soviet Union on 22 June 1941. On 30 June 1941 he reached his 50 victory, and as most of the other experten he continued scoring at a rapid pace. on 15 July 1941 his tally reached 80, and he was awarded the Swords to his Knights Cross.

In late July he was recalled from the Eastern Front to take up the position as Geschwaderkommodore of JG 2, operating in France. He continued flying offensive operations against the Royal Air Force until he reached his 100th victory on 26 October 1941. He was then forbidden from flying on operations, as his experience and leadership qualities were regarded as to valuable to risk, although he did fly on occasional sorties.

Oesau served in a string of staff appointments, including Jagdfliegerführer 4, until he returend to combat in November 1943. Now a Oberst, Oesau was appointed Geschwaderkommodore of JG 1. He added several victories over American heavy bombers in the first 5 months of 1944. Then, on May 11, 1944, when one thousand U.S. heavy bombers attacked railway targets in France, Oesau was in bed with influenza. Suddenly, Göring phoned his staff: "Is the Kommodore flying?" "No, he is in bed with fever." "Yes, yes, I know that kind", said Göring scornfully, "he has also turned tired and coward!" Angered by this comment, Oberstleutnant Walter Oesau mounted his Bf 109 G-6/AS and took off alone, despite high fever and was never seen again.

---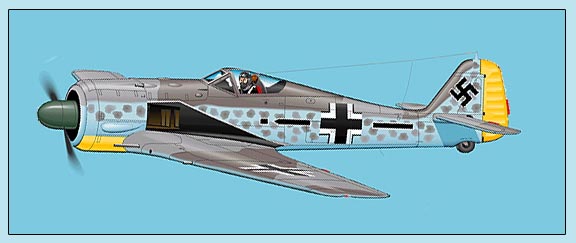 ---
LUFTWAFFE RESOURCE CENTER
>
LUFTWAFFE ACES
>
PREVIOUS PAGE
---