---
LUFTWAFFE RESOURCE CENTER
>
LUFTWAFFE ACES
>
PREVIOUS PAGE
---
Werner Mölders
---


Last Wartime Rank: N/A
Unit(s): JG 51, JG 53
Theatre(s): Spain, France, Battle Of Britain, Western & Eastern Fronts
Combat Debut: Spain 1937
Kills: 115
14 Spain
15 France
31 Battle Of Britain
22 Western Front
33 Eastern Front
Total Sorties: 300+
KAS: 11-22-41
Decoration: The Knight's Cross with Oak Leaves, Swords and diamonds




---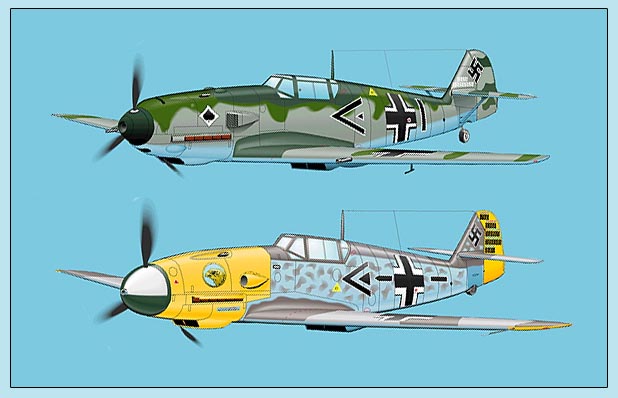 ---
Biography:
-
Source: Wikipedia
Mölders was born on 18 March 1913 in Gelsenkirchen as son of the teacher Viktor Mölders and his wife Annemarie Mölders, born Riedel. His father was killed in action on 2 March 1915 as a Leutnant of the Reserve in an Infantry Regiment in the Forest of Argonne, France. From 1919 until 1931 Mölders attended the Grundschule and "Saldria-Gymnasiums" in Brandenburg an der Havel. He graduated in early 1931 with the Abitur. He joined the army on 1 April 1931 and served as an officer cadet in the Infantry. In 1934 Mölders requested a transfer to the newly created Luftwaffe. At his first attempt to join, in 1935, he was declared unfit for flying. He tried again and was given conditional permission to begin flying training. Nausea and vomiting assailed him constantly, but he overcame them by sheer willpower. On 1 July 1935 Leutnant Mölders was posted to Fliegergruppe Schwerin, and he was appointed Staffelkapitän of 1./JG 334 on 15 March 1936. He then served as an instructor at Wiesbaden.
In 1938 he volunteered for the Condor Legion and arrived by sea in Cadiz on 14 April 1938, taking over from Adolf Galland at the head of the 3. Staffel J/88. During the Spanish Civil War he showed considerable qualities not only as a pilot and marksman but also, and especially, as a tactician and operational planner. A devout Roman Catholic and humanitarian, Mölders often incurred the displeasure of the higher command, although ultimately his military talents overcame any theological problems with authority. Together with other airmen, in Spain he developed the technique known as the finger four which improved a Flight's (Schwarm) all-round vision and encouraged the pilots' initiative.
From mid 1938 to the end of the year Mölders became the leading ace of the Condor legion, claiming fourteen aircraft shot down in Spain; four Polikarpov I-15 Chato and ten I-16 Mosca, most while flying the new Messerschmidt Bf 109 C-1. At the end of the year he returned to Germany with a glowing reputation and a maturity beyond his years and rank. In 1939 he was promoted to Staffelkapitän of 1./JG 53, and was known by those under his command as Vati (Daddy) Mölders.
He shot down his first aircraft of the Second World War on September 20, 1939, and in October he went on to command III./JG 53 as Gruppenkommandeur. On May 27, 1940, after his twentieth victory, he was promoted to Hauptmann and awarded the Knight's Cross. He was shot down in combat on June 5, 1940 by a French Air Force Dewoitine D.520 and taken prisoner. He was liberated two weeks later upon the armistice with France.
He returned to Germany to be promoted to Major and given command of JG 51 as Geschwaderkommodore on 27 July 1940. According to legend, Mölders was hit in a dogfight over Dover with the South African ace Sailor Malan on July 28. Wounded, Mölders managed to make an emergency landing at Wissant, France. Recent research seems to suggest Mölders was actually wounded in combat with Spitfires of 41 Squadron. His wound, although not serious, kept Mölders from further operational flying for a month. Mölders had some 55 kills by the end of 1940 (25 in the Battle of France, 30 in the Battle of Britain). Continuing operations against the RAF over the Channel and occupied France during early 1941, by May his victory claims totaled 68.
In June 1941 JG 51 transferred to the Eastern front, and following the start of operations in June 1941 he brought his score up to 100 in just three weeks. He was the first pilot in history to reach that milestone figure, and he added Diamonds to the Oak Leaves with Swords on his Ritterkreuz the first German serviceman to receive the award. He was also personally ordered by Hermann Göring not to fly in combat anymore.
An Oberst at 28, Mölders was appointed as Inspector General of Fighters, a post responsible for deciding the ongoing tactical and operational doctrine of the Luftwaffe's fighter strategies. Returning to Russia in September 1941, he set up a command post at Chaplinka airfield, from where he flew in his personal Fieseler Fi 156 'Storch' on tours of the Jagdwaffe and personally directed German fighter operations. He did also fly unofficially on missions, and actively commanded JG 51 for several more months. Within the next two months it is suggested he unofficially shot down a further 30 or so Soviet aircraft.
Mölders married Luise Baldauf, born Thurner, on 13 September 1941. Together they had a daughter, Verena. Mölders never got to see his daughter!
On November 22, 1941 he was flying as a passenger in a He-111 from the Crimea to Germany to attend the funeral of his superior and friend, Ernst Udet. Attempting to land at Breslau during a thunderstorm, the aircraft crashed. Mölders and the pilot were killed.
On April 13, 1968, a Destroyer of the Federal German Navy was christened "Mölders". It was in Service between 1969 and 2003. As of June 24, 2005 it is the central attraction at the Navy Museum in Wilhelmshaven.
On November 9, 1972 a base of a Batallion of the 34th Signal Regiment of the Federal German Army received the name "Mölders".
Most notably, the Fighter Squadron 74 (Jagdgeschwader (JG) 74), stationed in Neuburg on Danube received the name "Mölders" in 1973. In 2005 the German Ministry of Defence (Bundesministerium der Verteidigung) decided to remove the name "Mölders" from the JG 74. This was done in accordance with a decision from the German Parliament (Bundestag) in 1998 due to the 61st Anniversary of the bombing of the town of Guernica in Spain during the Spanish Civil War. Werner Mölders was a part of the "Condor Legion ", a German military attachment fighting for fascist troops in Spain. According to Parliament a member of the "Condor Legion " should "not be honoured any more".
Despite doubts as to Mölders participation in the bombing of Guernica, as well as his political opinions towards National Socialism, and a large front of petitions from politicians and high ranking active and retired servicemen, a Report from the Office for Military History (Militärgeschichtliches Forschungsamt) in Potsdam was published concluding that it was questionable whether Mölders had distanced himself enough from National Socialism and the decision remained.

---
LUFTWAFFE RESOURCE CENTER
>
LUFTWAFFE ACES
>
PREVIOUS PAGE
---