---
LUFTWAFFE RESOURCE CENTER
>
POST WAR
>
PREVIOUS PAGE
---
Mikoyan Mig 29A Fulcrum
---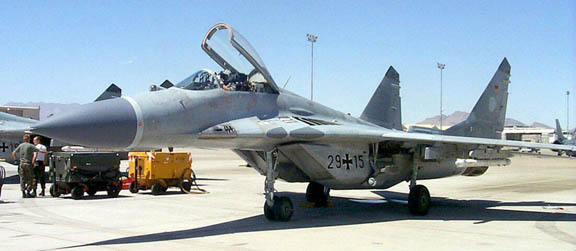 ---
Type: Supersonic Air Superiority Fighter
Crew: 1
Manufacturer: Mikoyan
Numbers currently in Service:
Mig-29A: 19 - Used as interceptors
Mig-29UB: 4 - Used in Training


---

Powerplant:
Model: Sarkisov RD-33
Type: Afterburning turbofans
Number: Two Thrust: 18,300 lb.


---

Dimensions:
Height: 15 ft. 6 in. (4.70 m)
Length: 56 ft. 10 in. (17.32 m)
Wing Span: 37 ft. 3 in. (11.56m)
Wing Area: 379 sq. ft. (35.2m²)

Weight:
Empty: 8,175kg
Loaded: 15,000kg
Maximum Take-Off: 18,480kg

Performance:
Top Speed:
At Sea Level: Mach 1.06 (1,300 kph)
At Altitude: Mach 2.35 (2,465 kph)
Ceiling: 60,700 ft. (18,500)
Rate Of Climb: 19,800m/minute
Roll Rate: N/A
Range:
Internal Fuel: 932 miles (1500 km)
With External Tanks: 1,550 mi (2,495 km)


---

Armaments:
Six underwing hardpoints
Internal GSh-30 30mm Cannon with 130 rounds mounted in port wing root.

---
Comments:
When Germany reunited, the Luftwaffe found itself with several new aircraft types in it's inventory. Included in this assortments were two dozen Mig 29's; 19 Fulcrum A's and 4 Mig-29UB two-seat conversion trainers. Currently all the Migs are assigned to Staffel 731 of JG 73 based at Laage.


Mig-29UB two-seat conversion trainer
The former East German Migs were Russian export models and thus are less capable than their optimally equipped Russian brethren. The turibines were downgraded to 90% capacity and equipped with a less powerful radar, significantly reducing detection range (to about 40km).
Even in their reduced state, these Mig-29's have proven themselves more than capable when sortied against Netherland Air Force F-16 Falcons, defeating them all with no losses, during an exercise.
However, it is doubtful that the Migs will remain in service for long. Even with the likelihood of acquiring spare parts from the former Soviet Union, the logistics of supporting a single staffel of foreign aircraft would not be economically viable.
---
Sources:
The Complete Encyclodepia of World Aircraft
, 1997, Barnes & Nobles Books, ISBN: 0 7607 0592 5
---
LUFTWAFFE RESOURCE CENTER
>
POST WAR
>
PREVIOUS PAGE
---