SD 10C Antipersonnel Bomb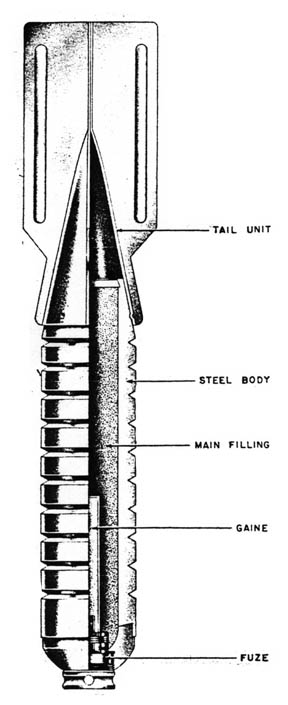 Over-All Length: 20.5 in.
Body Length: 12.7 in.
Body Diameter: 3.0 in.
Wall Thickness: 0.55 in.
Tail Length: 9.4 in
Tail Width: 3 in.

---
Total Weight: 7 kg approx.
Filling: N/A
Weight Of Filling: 0.75 approx.
Charge/Weight Ratio: 11% Approx.
Fuzing: EAZ (66) A

---
SUSPENSION: 28 bombs in a AB 250-2 container.
COLOR AND MARKINGS: Khaki over all. Stenciled on body, SD 10C.

---
CONSTRUCTION: The cast steel body of the bomb is closed at the tail by a sheet steel plate shrunk into position. Externally the tail end is machined to form a seating for the tail unit. Nine angular grooves, machined in the body ensure good fragmentation. The fuze adaptor, internally threaded to accept the airflow control ring of the fuze EAZ (66) A, is shrunk into a recess formed in the nose of the bomb body. The main filling is recessed at the nose end to accomodate a long gaine. The tail unit, secured to the bomb body by four indentations, is formed of four similar sheet metal pressings riveted together.

---
All information for this entry were acquired from Army Technical manual TM 9-1985-2/Air Force Technical Order TO 39B-1A-9 GERMAN EXPLOSIVE ORDNANCE (Bombs, Fuzes, Rockets, Land Mines, Grenades & Igniters)