FLAM C250A, B, & C Incendiary Bomb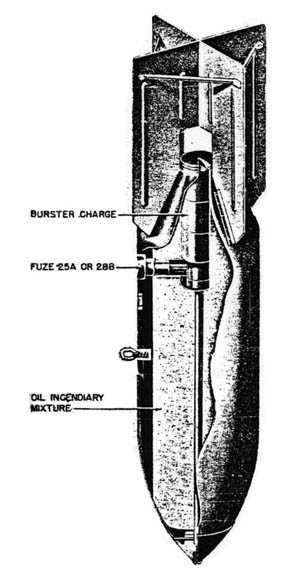 Over-All Length: 64 in.
Body Length: 46.75 in.
Body Diameter: 14 in.
Wall Thickness: N/A
Tail Length: 24.75 in
Tail Width: 20 in.

---
Total Weight: 250 kg.
Filling: Oil incendiary mixture and TNT bursting charge.
Weight Of Filling: N/A
Charge/Weight Ratio: N/A
Fuzing: (25) A or (28) B

---
CONSTRUCTION: The bomb, containing an oil mixture, consists of a steel body made of two longitudinal halves welded and crimped together. The three bombs are almost identical, differing only in minor constructional details. The tail assembly differs considerably from normal German construction. The four fins are riveted directly to the after coned portion of the bomb body and are secured to each other by 5/8 inch tubular struts.
SUSPENSION: N/A.
COLOR AND MARKINGS: These bombs are painted dark green over-all, with two 5/8 inch red stripes, one around the nose and one around the middle of the body. "Flam C250A (B or C)", and all four fins are similarly stamped. The secondary markings depend upon type of filling used in the respective bombs.

---
All information for this entry were acquired from Army Technical manual TM 9-1985-2/Air Force Technical Order TO 39B-1A-9 GERMAN EXPLOSIVE ORDNANCE (Bombs, Fuzes, Rockets, Land Mines, Grenades & Igniters)