AB 70-1 or Mark 70 S Container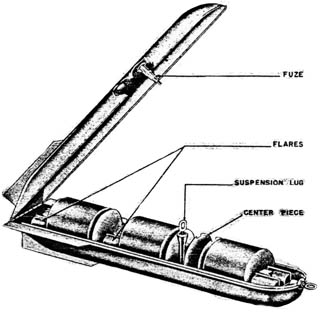 Over-All Length: 43.5 in.
Body Length: N/A
Body Diameter: 8.0 in.
Wall Thickness: N/A
Tail Length: 16 in.
Tail Width: 11 in.
Total Weight: N/A
Filling: 3 Mark S flares
Fuzing: Z (89) B

---
SUSPENSION: Horizontal or vertical. An internally threaded suspension bolt is welded to nose of bottom section and a twin bar of steel, surmounted by an internally threaded suspension eyebolt housing is welded to bottom section 2 inches in rear of the rear wall.
COLOR AND MARKINGS: Light khaki overall. Dull red stripes between tail fins.
Stencilled on container: Either Mark 70 S or


Mark AB 70-1
3 Marks
"Rot" or "Weiss"

When container is stenciled "Brenndaner 0-5" flares are normally fitted with friction nondelay ignitter. If stencilled "Brenndaner 5-15" the flare in the front compartment functions as above but the two remaining flares are fitted with 67/V fuzes set to function after 5 and 10 minutes.

---
CONSTRUCTION:
Container is identical in external construction to the
AB 23 SD 2
container.
The bottom section of the container is divided by two walls, forming three compartments. The forward compartment houses a shortened version of Mark S flare. The center compartment provides clearance for the fuze pocket and the rear compartment houses two Type 1 Mark S flares.
When charge is passed to fuze, predetermined delay starts running out. Fuze then fires initiating burster charge within gaine. Explosion forces anvil from the fuze pocket, shearing the shear wire and causing container to hinge open. Static cords connect each flare fuze to the container. When flare falls away, flare fuze is thus initiated.
---
All information for this entry were acquired from Army Technical manual TM 9-1985-2/Air Force Technical Order TO 39B-1A-9 GERMAN EXPLOSIVE ORDNANCE (Bombs, Fuzes, Rockets, Land Mines, Grenades & Igniters)