Focke Wulf Fw 200 Condor
Operational History
The Fw 200 was the first heavier-than-air craft to fly nonstop between Berlin and New York City, making the journey on 10 August 1938 in 24 hours and 56 minutes. The return trip on 13 August 1938 took 19 hours and 47 minutes. These flights are commemorated with a plaque in the Böttcherstraße street of Bremen. A Danish Fw 200 aircraft named Dania was seized by the British on English soil after Denmark was invaded by German forces in 1940. It was operated by the British Overseas Airways Corporation (BOAC) and was later pressed into service with the Royal Air Force. It was damaged beyond repair in 1941.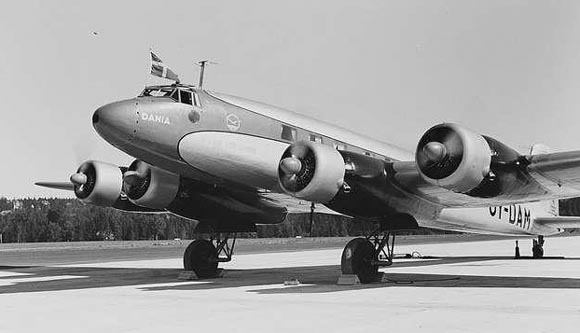 The Danish Airlines' Focke-Wulf Fw 200 airliner OY-DAM Dania at the opening of the Norwegian airport Fornebu near Oslo, June 1, 1939.
The Japanese Navy requested a military version of the Fw 200 for search and patrol duties, so Tank designed the Fw 200 V10 with military equipment. This Fw 200 was held in Germany because war had broken out in Europe by that time. This aircraft became the basis for all later military models used by the Luftwaffe. The Luftwaffe initially used the aircraft to support the Kriegsmarine, making great loops out across the North Sea and, following the fall of France, the Atlantic Ocean. The aircraft was used for maritime patrols and reconnaissance, searching for Allied convoys and warships that could be reported for targeting by U-boats. The Fw 200 could also carry a 900-kilogram (2,000 lb) bomb load or naval mines to use against shipping, and it was claimed that from June 1940 to February 1941, they sank 331,122 tonnes (365,000 tons) of shipping despite a rather crude bombsight. The attacks were carried out at extremely low altitude in order to "bracket" the target ship with three bombs; this almost guaranteed a hit. Winston Churchill called the Fw 200 the "Scourge of the Atlantic" during the Battle of the Atlantic due to its contribution to the heavy Allied shipping losses. From mid-1941, Condor crews were instructed to avoid attacking shipping and avoid all combat in order to preserve numbers. In August, the first Fw 200 was shot down by a CAM ship-launched Hawker Hurricane, and the arrival of the U.S.-built Grumman Martlet, operating from the Royal Navy's new escort carriers, posed a serious threat. In August 1942, a Fw 200C-3 was the first German aircraft to be destroyed by USAAF pilots, after it was attacked by a P-40C and a P-38F over Iceland. The Fw 200 was also used as a transport aircraft, notably flying supplies into Stalingrad in 1942. After late-1943, the Fw 200 came to be used solely as a transport aircraft. For reconnaissance, it was replaced by the Junkers Ju 290 and, as France was liberated, maritime reconnaissance became impossible. Production ended in 1944 with a total of 276 aircraft produced. Several damaged Fw 200 landed in Spain during the war. In the beginning, they were repaired and returned to their bases in France. After Operation Torch (the Allied invasion of Africa), the Spanish government interned four aircraft that arrived (although their crews were still allowed to return to Germany). Since the aircraft could not be used, they were sold by Germany to Spain. One of the three flyable aircraft was then operated in the Spanish Air Force and the others used for spares. Due to damages, lack of spares, and for political reasons, they were grounded and scrapped around 1950. Some Condors also crashed in Portugal. Their crews were allowed to return to Germany while the British authorities were allowed to inspect the aircraft and accompanying documentation. Some crews (at least one full crew) died in these crashes and all crew members are buried in the civilian cemetery of Moura (Alentejo Province) in Portugal. The aircraft that crashed in Spain and Portugal had been based in Bordeaux-Merignac, France (after 1940). Before 1940, the operational base of the Fw 200 squadrons had been in Denmark.
Hitler's personal transport
At the suggestion of his personal pilot Hans Baur, Adolf Hitler specified a modified and unarmed prototype Condor, the Fw 200 V1 as his personal transport, in replacement for his Junkers Ju 52. Originally configured as a 26-passenger Lufthansa transport (Works No. 3099), the plush aircraft was reconfigured as a two-cabin airliner. Hitler's seat in the cabin was equipped with a wooden table, seatback armour plating, and an automatic parachute with downward throws — according to Hans Baur, it was never armed. In line with Hitler's aircraft preferences, it carried the markings "D-2600" and named "Immelmann III" in honor of World War I flying ace Max Immelmann. As the war progressed it changed designation to "WL+2600" and finally "26+00;" it was destroyed at Berlin Tempelhof Airport in an Allied bombing raid on 18 July 1944.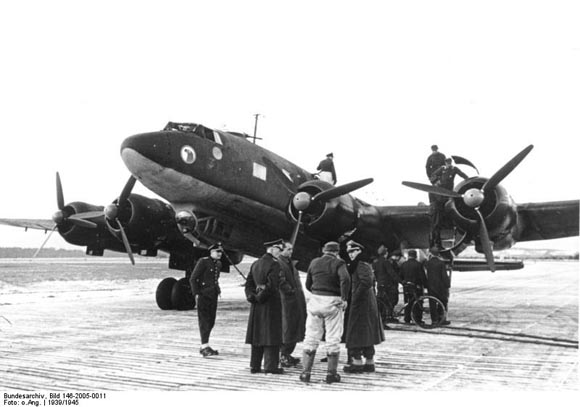 dolf Hitler's personal Fw 200 Condor, bearing the insignia
of the Die Fliegerstaffel des Fuehrers on its nose.
Sources:
Gunston, Bill & Wood, Tony -
Hitler's Luftwaffe
, 1977, Salamander Books Ltd., London