---
LUFTWAFFE RESOURCE CENTER > SECRET PROJECTS & PROTOTYPES > PREVIOUS PAGE


GOTHA-KALKERT Ka 340

---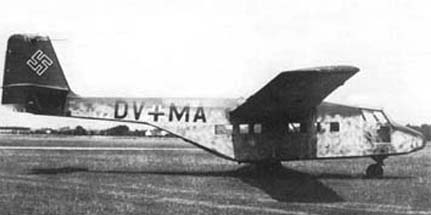 ---
Type: Assault Glider
Origin: Gothaer Waggonfabrik AG to Kalkert Design
Models: Ka 430A-0
First Flight: 1943
Service Delivery: 1944
Final Delivery: 1944
Total Production: 12


---

Dimensions:
Wing span: 63 ft. 11¾ in. (19.50m)
Length: 43 ft. 4½ in. (13.22m)
Height: 13 ft. 8 in. (4.16m)
Wing Surface Area: N/A

Weights:
Empty: 3,990 lbs. (1810 kg)
Maximum: 10,140 lbs. (4600 kg)


---

Performance:
Maximum Towing Speed: 186 mph (300 kph)
Limit in free flight: 199 mph (320 kph)

Armament:
One 13mm MG 131 in dorsal turret

Payload:
12 Equipped troops or 3,080 lb. (1400 kg) of freight.
---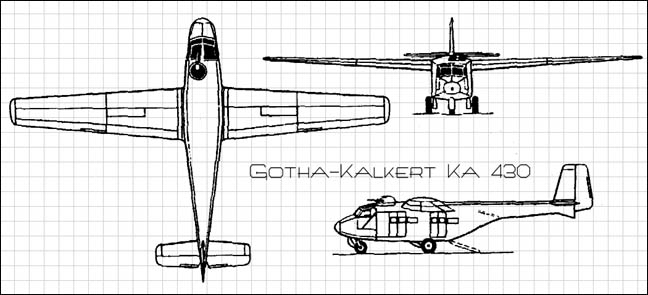 ---
Comments
The Gotha Ka 430 was a military transport glider, first built in 1944. The glider was designed by Albert Kalkert. Twelve had been produced by the end of World War II, but none of them was used operationally.

The glider could carry twelve men, and tests were being conducted towards the end of the war to see if it could carry a cargo of 1,400 kg (3,100 lb). A single 13 mm (.51 in) MG 131 machine gun was fitted for self defence.
---
Sources:
Gunston, Bill & Wood, Tony - Hitler's Luftwaffe
, 1977, Salamander Books Ltd., London

---
LUFTWAFFE RESOURCE CENTER > SECRET PROJECTS & PROTOTYPES > PREVIOUS PAGE