---
LUFTWAFFE RESOURCE CENTER
>
BOMBERS
>
JUNKERS JU 88
>
PREVIOUS PAGE
---
Junkers Ju 88A
---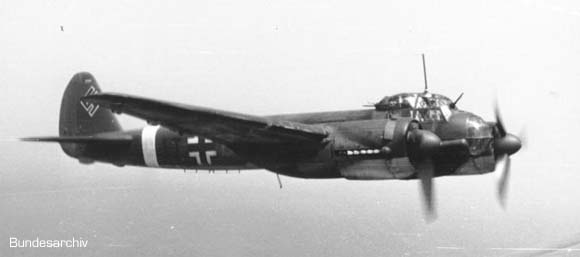 Junkers Ju 88A, 1942
---
Type: Medium Bomber
Origin: Junkers Flugzeug und Motorenwerke AG
Designed by: W. H. Evers and Alfred Gassner
Crew: 4

First Flight: December 21, 1936
Service Introduction: 1939
Retired (France): 1951
Number Built: 15,000+ (all models)

Specifications for Ju 88A-4
Powerplant:
Model: Junkers Jumo 211J
Type: Liquid-cooled inverted V12
Horsepower: 1,401 hp Number: 2

Supercharger:
No. Speeds: 2
No. Stages: N/A
Ratios: 8.8, 12.4
Impellor Diam.: 8.91 in

Propeller
Mfr: V.D.M./Junkers
No. Blades: 3
Diameter: N/A
Pitch Control: Hydraulic

Fuel System:
Rating: 87 octane
Delivery: Direct injection
Capacity:
Normal: 771 gallons
Maximum: 1,193


---

Dimensions:
Length: 47 ft 27⁄8 in (14.36 m)
Wingspan: 65.88 ft (20.08 m)
Height: 16.63 ft (5.07 m)
Wing area: 587 ft² (54.7 m²)


---

Weights:
Landing Wt: 20,400 lbs.
Loaded wt: 28,300 lbs.
Max takeoff wt: 30,300 lbs.

Performance:
Cruise Speed: 254 mph @ 16,400 ft.
Economical Cruise: 198 mph @ 16,400 ft.
Maximum speed: 317mph @ 17,388 ft
Take-Off Distance: 3,500 ft
Range: 1,429 miles (2,430 km)
Service ceiling:
Normal Load: 24,200 ft
Max. Load: 22,700 ft.
Fuel/no bombs: 32,500 ft.

Armaments:
Guns:
– 1 × 7.92 mm MG 81J machine gun on
flexible mount in front windscreen, firing
forward.
Ammunition: 1,000 rounds.

– 2 × 7.92 mm MG 81J on flexible mounts
in back of the cockpit firing to the rear
Ammunition: 1,000 rounds each.

– 1 × 7.92 MG 81Z twin machine guns in the
gondola under the cockpit firing to the rear.
Ammunition: 3,000 rounds in total.

Drop Ordnance:
– 6,614 lb (3,000 kg) maximum of bombs in
internal bomb bays and externally
or overloaded to 7,937 lb (3,600 kg).
Or
– 2 × LT aerial torpedoes
---
Armament options
– Additional fitting of single 7.92 mm
MG 15
machine guns, one to each side of the cockpit
glazing in flexible "Donut" mountings, covering the side hemisphere.
– Additional fitting of a single 7.92 mm MG 15, MG 81J (on occasion a twin MG 81Z)
or 13 mm MG 131 machine gun in A-Stand in the lower nose glazing.
– A single 13 mm MG 131 was sometimes used in place of the 7.92 mm MG 81J or MG 81Z
machineguns in the A-Stand, B-Stand or Bola gondola positions.
– A modification of the A-4, the Ju 88 A-13s could carry the Waffenbehälter WB 81A or
WB 81B (firing with 15° downwards deflection) gun pods on external bomb racks for
ground attack duties, each "watering can" containing three 7.92 mm MG 81Z twin machine
guns, for strafing enemy troops.
– Aircraft may carry one 20 mm MG FF cannon in the nose for ground attack purposes, with
90 rounds of ammunition, in place of the Lotfernrohr 7 bombsight
---
Sources:
German Aircraft and Armament: Informational Intelligence, Summary No. 44-32, October 1944 (Informational Intelligence Summary)
Wikipedia - Junkers Ju 88
---
LUFTWAFFE RESOURCE CENTER
>
BOMBERS
>
JUNKERS JU 88
>
PREVIOUS PAGE
---