---
LUFTWAFFE RESOURCE CENTER
>
SEAPLANES
>
PREVIOUS PAGE
---
HEINKEL He 60
Variants
He 60a
First prototype which began flight testing in early 1933.
He 60b
Second prototype which experimented with a more powerful engine. However, it proved no better and the design reverted to that used in the 60a.
He 60c
Third prototype, used for successful catapult trials in early 1933. This aircraft was delivered into operational service with the navy.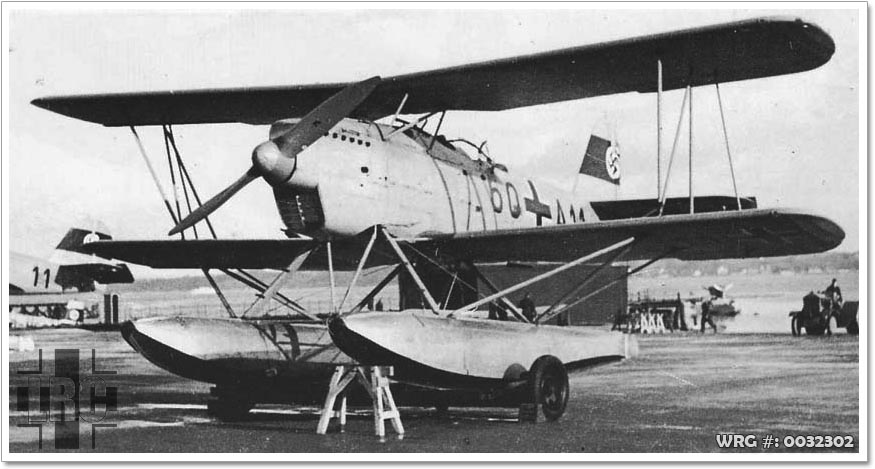 A Heinkel He 60c
[Source: Unknown/Public Domain]
He 60A
14 pre-production aircraft were ordered. A total of 81 A-variant aircraft were produced.
He 60B
Initial production version, commencing in 1934.
He 60B-3
In 1933 a single aircraft was fitted with a 671 kW (900 hp) Daimler-Benz DB 600 engine in an effort to improve performance. However, the development was dropped.
He 60C
In late summer 1934, the improved C-variant went into production, with first deliveries in Autumn 1934.
He 60D
The D-variant was similar to the He 60C, with the capability added for a fixed MG-17 machine gun and improved radio equipment. Production commenced in June 1936.
He 60E
6 aircraft were ordered by Spain, and these D-variants were called the 60E, ending delivery in April 1937. They flew coastal patrols in the Spanish Civil War, and the last aircraft were withdrawn from service in 1948.
Sources:
Wikipedia

---
LUFTWAFFE RESOURCE CENTER
>
SEAPLANES
>
PREVIOUS PAGE
---