---
LUFTWAFFE RESOURCE CENTER
>
SEAPLANES
>
PREVIOUS PAGE
---
HEINKEL He 60
Design & Development
The Heinkel He 60 was designed by Heinkel engineer Reinhold Mewes, the designer of the
He 59
. The resulting design was a single-engined biplane of mixed wood and metal construction with fabric covering. Its single bay wings were of equal-span and had significant stagger.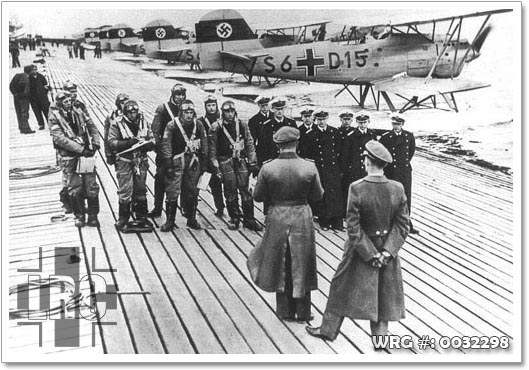 A group of He 60 crews in front of thier aircraft
The first prototype flew early in 1933 and proved to be underpowered with its 492 kW (660 hp) BMW VI engine. The second prototype had a more powerful version of the BMW engine, but this only marginally improved its performance and was unreliable, so production aircraft reverted to the original engine. Of conventional configuration, the He 60 was a sturdy aircraft, designed (as the specification required) to be capable of operating on the open sea. As a result, it was always somewhat underpowered for its weight, which made handling sluggish and the aircraft vulnerable to enemy fire. Attempts were made to solve its lack of power by fitting one aircraft with a Daimler-Benz DB 600 engine, but engines were not available for production.
Sources:
Wikipedia

---
LUFTWAFFE RESOURCE CENTER
>
SEAPLANES
>
PREVIOUS PAGE
---