---
LUFTWAFFE RESOURCE CENTER
>
SEAPLANES
>
PREVIOUS PAGE
---
HEINKEL He 59
---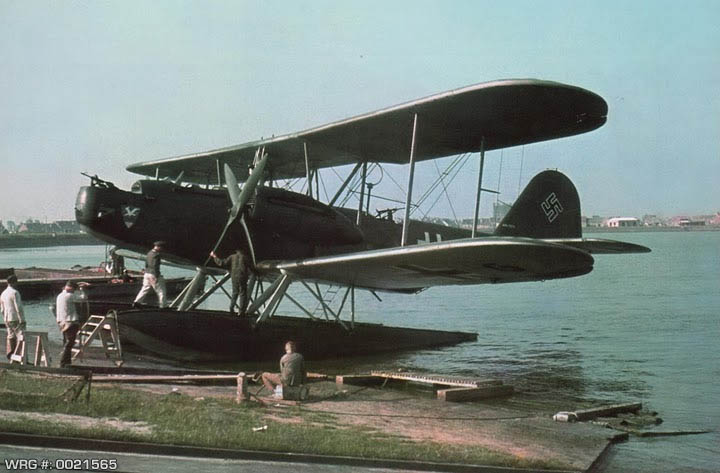 [Source: Mark Allen Collection]

---
Type: Multi-Role Seaplane
Origin: Ernst Heinkel AG, Marienehe; production subcontracted to Walter Bachmann AG, Ribnitz; also some built under license (About 1935) by Arado Flugzeugwerke
Models: B, C, D, E and N
First Flight: September, 1931
Service Delivery: August 1932
Final Delivery: 1936


---

Powerplant:
Model: BMW VI
Type: 12-Cylinder water cooled vee
Number: Two Horsepower: 660 hp

Dimensions:
Wing span: 23.70m (77 ft. 9.5 in.)
Length: 17.40m (57 ft. 1.75 in.)
Height: 7.10m (23 ft. 3.75in.)
Wing Surface Area: N/A

Weights: He 59C-2
Empty: 6,215kg (13,702 lbs.)
Maximum: 9,000kg (19,842 lbs.)

Performance:
Maximum Speed: 215kph (134 mph)
Range (with max fuel): 1,087 miles (1,750km)
Service Ceiling: N/A

Armament:
Three or four 7.92mm MG 15 (later MG 81) manually aimed from bow, dorsal, and ventral positions. Many subtypes carried at least one 20mm MG FF.

Bomb Load:
Most B-2 variants had provisions for 2,205 lbs. (1000kg) of mines, bombs, and other ordnance.

---
Comments
Though one of the first warplanes built by Germany after WWI, the He 59 proved to be extremely versatile and useful long after it was "obsolete". So much so that in 1943, even though thier numbers had dwindled, no less than 18 units still operated various models of He 59. These units used this venerable aircraft for such missions and mining, ground attack, rescue, transport, electronic warfare and psy-war missions. The He 59 served with the Kondor legion as a bomber and in 1940 ten He 59C-2 rescue transport were used to fly 60 troops to the Waal at Rotterdam to capture the bridges there.
---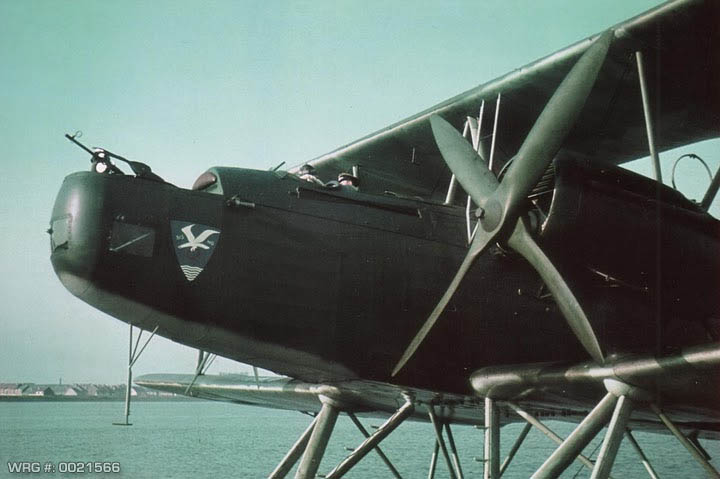 [Source: Mark Allen Collection]

---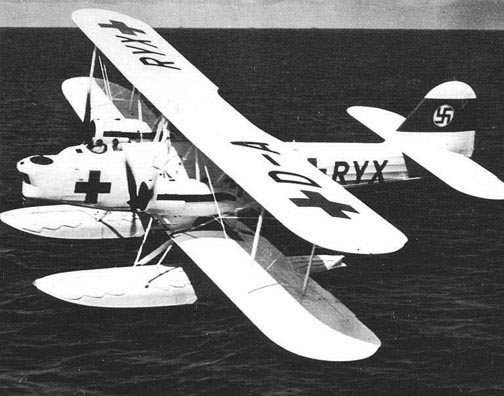 ---
Sources:
Gunston, Bill & Wood, Tony -
Hitler's Luftwaffe
, 1977, Salamander Books Ltd., London
---
LUFTWAFFE RESOURCE CENTER
>
SEAPLANES
>
PREVIOUS PAGE
---