---
LUFTWAFFE RESOURCE CENTER
>
BOMBERS
>
PREVIOUS PAGE
---
HEINKEL He 45
---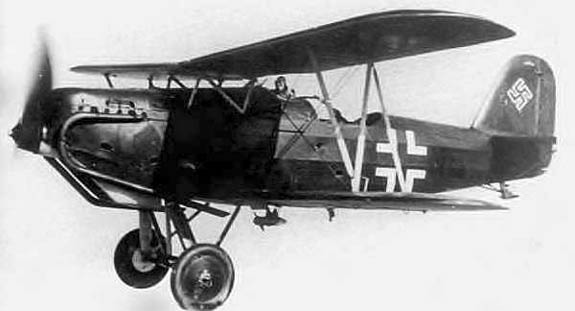 ---
Type: Recon bomber and advanced trainer
Origin: Ernst Heinkel AG, Rostock-Marienehe
Models: a, b, c, d and C
Production: 512
First Flight: Spring, 1932

Engine: Typical configuration
BMW VI 7-3 Watercooled V12
Horsepower: 750hp

Fuel/Fluids:
Fuel Capacity: N/A
Type: N/A
Lubricant Capacity: N/A
Type: N/A
Hydraulic Fluid Capacity: N/A
Type: N/A

Dimensions:
Wing span: 11.50m (37 ft. 8.75 in.)
Wing Surface Area: N/A
Length: 10.59m (34 ft. 9.25 in.)
Height: 3.60m (11 ft. 9.75 in.)
Stabilizer Span: N/A


Weights:
Empty (C): 2105kg (4,641 lb.)
Loaded (C): 2745kg (6,052 lb.)

Performance:
Maximum Speed: 180 mph (290 kph)
Cruise Speed: N/A
Range: 1200km (746 miles)
Initial Climb: N/A
Endurance: N/A
Service Ceiling: N/A

Armament:
One hand aimed MG 15 in rear cockpit
He 45b added a synchronized MG 17 above engine
And
Up to 440lb. (200kg) bombs on lower wing racks.

Production Numbers:
Heinkel: 69*
BFW: 156
Gothaer Wagonfabrik: 68
Focke-Wulf: 219
*Includes airframes designated He 61 for export to China.

---
Notes:
A sturdy and reliable though unremarkable aircraft, the He 45 was constructed of fabric covered steel tubing for the fuselage and wooden wings. One of the first front line aircraft serving with the Luftwaffe, the He 45 also served with Nationalist Spain (at least 40 aircraft) and 6 He 45C aircraft served with the Legion Kondor. Most surviving He 45C were relegated to training schools by 1939, though in the Autumn of 1942 most remaining aircraft were transfered to Storkampfstaffeln (night harrasment squadrons) on the eastern front.
---
Sources:
Gunston, Bill & Wood, Tony -
Hitler's Luftwaffe
, 1977, Salamander Books Ltd., London
---
LUFTWAFFE RESOURCE CENTER
>
BOMBERS
>
PREVIOUS PAGE
---