---
LUFTWAFFE RESOURCE CENTER
>
BOMBERS
>
HEINKEL He 177
>
PREVIOUS PAGE
---
HEINKEL He 177
Wing Design
Among the He 177's noteworthy features were its Fowler-type extensible trailing edge flaps which occupied the entire wing trailing edges, including those portions covered by the ailerons. Each aileron comprised upper and lower portions, the latter arranged to slide rearwards with flap extension while the upper part retained its function of providing lateral control for takeoff and landing. The original wing design did not take into full account the stresses resulting from the operation of the Fowler flaps.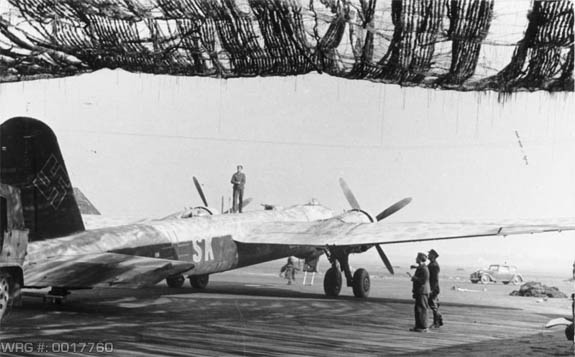 Heinkel He 177 A-3 W.Nr 135014 ND+SK, January 1944
[Source: Bundesarchiv, Bild 101I-668-7161-31A/Linden/CC-BY-SA]
Tests on the fortieth production A-1 aircraft in September 1942 revealed serious outer wing panel component damage after only some twenty flights due to the aerodynamic stress from diving attack exercises, and very costly and extensive strengthening was needed to solve the problem. This significantly increased the aircraft's weight. Starting with the later versions of the He 177 A-3, the Fowler flaps along the outboard wing sections were deactivated and removed and an additionally strengthened wing design was introduced on the He 177 A-5.
---
Source:
WikiPedia
---
LUFTWAFFE RESOURCE CENTER
>
BOMBERS
>
HEINKEL He 177
>
PREVIOUS PAGE
---