---
LUFTWAFFE RESOURCE CENTER
>
BOMBERS
>
HEINKEL He 177
>
PREVIOUS PAGE
---
HEINKEL He 177
Dive-Bombing
Accuracy with horizontal bombing during the years of the Ural bomber program demonstrated the weaknesses in existing German bombsights. This in itself called into question the effectiveness of horizontal bombing, whether by a medium or heavy bomber force. Some in the Luftwaffe believed that dive bombing was a more effective way to destroy targets. Technical data supported the accuracy of Stuka strikes achieving greater target destruction over Dornier Do 17s or Heinkel He 111s. The experience of the Condor Legion in Spain supported the theories of dive bombing and led some to believe that pinpoint accuracy was possible, consequently diverting them away from the idea of horizontal bombing in favor of dive bombing.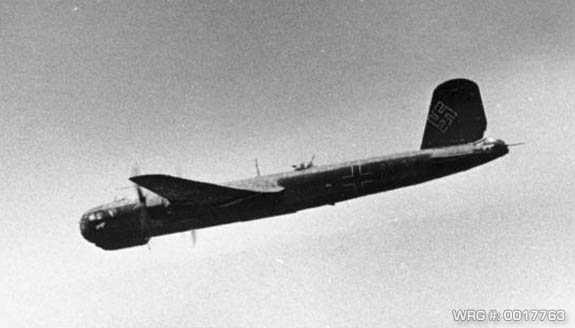 He 177A in a shallow dive, January 1944.
[Source: Bundesarchiv, Bild 101I-668-7163-14/Linden/CC-BY-SA]
During the final inspection of the Projekt 1041 mock-up on November 5, 1937, Ernst Udet stated the OKL's new divebombing requirement to Ernst Heinkel, who replied that the aircraft would never be capable of it. The He 177 had to be strengthened to support the stresses imposed by the pull-out from a dive. Unfortunately, the dive bombing requirement was later increased to 60° attacks rather than the medium angle dives originally called for, resulting in further structural strengthening and an alarming increase in weight.
Nevertheless, the requirement to dive bomb up to 60° was never satisfactorily solved, due to the constant increases in loaded weight. Despite the specially strengthened airframe, it was still possible to overstress the airframe during a dive attack maneuver. While the German bombsights of the 1930s were quite lacking, the follow-on versions of the Lotfernrohr 7 proved to be arguably as accurate as the American Norden bombsight. With the introduction of the Lotfe 7, which offered an average error of 20 m to 30 m (65 ft to 98 ft) from a release altitude of 3,000 m to 4,000 m (9,842 ft to 13,123 ft), and Hermann Göring's rescindment of the dive attack requirement in September 1942, the barred-gate type dive brakes, on the wing's lower surfaces and placed just forward of each of the outboard ends of the Fowler flap panels, were omitted from all He 177As built after the initial A-0 pre-production batch.
---
Source:
WikiPedia
---
LUFTWAFFE RESOURCE CENTER
>
BOMBERS
>
HEINKEL He 177
>
PREVIOUS PAGE
---