---
LUFTWAFFE RESOURCE CENTER
>
SEAPLANES
>
PREVIOUS PAGE
---
HEINKEL He 115
---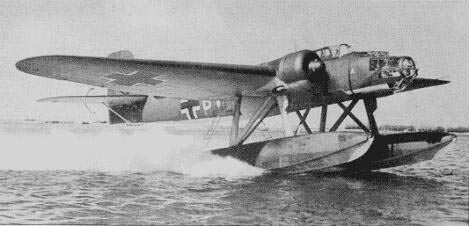 ---
IMAGE GALLERY
---
Origin: Ernst Heinkel AG, Marienehe
Type: Multirole seaplane
Models: He 115A to E
First Flight: Prototype: October 1936
Service Delivery: He 115A-0: July 1937
Final Delivery: About July 1944


---

Powerplant:
He 115B-1:
Model: BMW 132N
Type: nine-cylinder radial
Number: Two Horsepower: 865 hp

He 115C-1:
Model: BMW 132K
Type: nine-cylinder radial
Number: Two Horsepower: 970 hp


---

Dimensions:
Wing span: 22.275m (73 ft. 1 in.)
Length: 17.30m (56 ft. 9½ in.)
Height: 6.60m (21 ft. 7¾ in.)

Weights:
Empty: 6,690kg (14,748 lbs.)
Maximum: 10,400kg (22,928 lbs.)

Performance: Normal, Loaded
Maximum Speed: 327kph (203 mph)
Range (With Full Weapons Load):
2,090km (1,300 miles)
Range (With Maximum Fuel):
3,300km (2,050 miles)
Initial climb: N/A
Service Ceiling: N/A

Armament:
Two MG17 7.92mm machine guns, one in the nose and one rear facing
Various stores up to 1,420kg including torpedoes, mines and bombs.


---

Notes:
The B-2 model had it's floats strengthened for landing on ice or snow.

---
Comments
In 1935, the German Reich Air Ministry (Reichsluftfahrtministerium or RLM) produced a requirement for a twin engined general purpose floatplane, suitable both for patrol and for anti-shipping strikes with bombs and torpedoes. Proposals were received from both Heinkel Flugzeugwerke and from Blohm & Voss' aircraft subsidiary, Hamburger Flugzeugbau, and on 1 November 1935, orders were placed with both Heinkel and Hamburger Flugzeugbau for three prototypes each of their prospective designs, the He 115 and the Ha 140.
The first prototype Heinkel flew in August 1937, with testing proving successful, with the He 115 being selected over the Ha 140 early in 1938, resulting in an order for an additional prototype and 10 pre-production aircraft. Meanwhile, the first prototype was used to set a series of international records for floatplanes over 1,000 km (621 mi) and 2,000 km (1,243 mi) closed circuits at a speed of 328 kph (204 mph).
Armament varied, but included a 7.92 mm (.312 in) MG 15 machine guns, 20 mm MG 151 cannons, 7.92 mm (.312 in) MG 17 machine guns and 20 mm MG FF cannons. Other weapons used by He 115 variants include LTF 5 or LTF 6b torpedoes and SD 500 500 kg (1,100 lb) or SC 250 250 kg (550 lb) bombs. Some also carried LMB III or LMA mines.
---
Sources:
Gunston, Bill & Wood, Tony -
Hitler's Luftwaffe
, 1977, Salamander Books Ltd., London
---
LUFTWAFFE RESOURCE CENTER
>
SEAPLANES
>
PREVIOUS PAGE
---