---
LUFTWAFFE RESOURCE CENTER
>
LUFTWAFFE ACES
>
PREVIOUS PAGE
---
Erich Alfred Hartmann
---
Date Of Birth: April 19, 1922
Place Of Birth: Weissach/Württenberg
Father's Name: Alfred Erich Hartmann
Father's Birth Date: October 1, 1894
Father's Birthplace: Ehingen/Württenberg
Mother's Maiden Name: Elisabeth Wilhelmine Machtholf
Mother's Birth Date: February 16, 1897
Mother's Birthplace: Ehingen/Württenberg
Date Of Parents Marriage: September 2, 1920
Place Of Parents Marriage: Stuttgart/Württenberg

Wife's Name: Ursula Paetsch
Date Of Erich's Marriage: September 10, 1944
Place Of Marriage:Bad Wiessee

---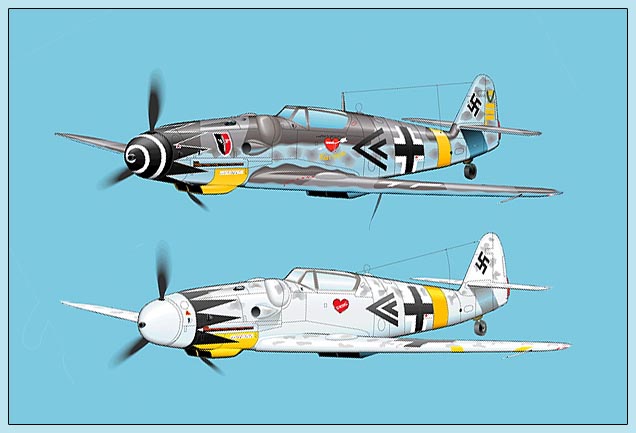 ---
Education:
April 1928-April 1932
April 1932-April 1936
April 1932-April 1937
April 1937-April 1940

Grade school in Weil im Schönbuch
High School Gymnasium in Böblingen
NPEA Gymnasium in Rottweil
Gymnasium at Korntal

Educational Major: Would have studied medicine but the war intervened.
---
Military Record:
Date Commisioned As Officer: March 1, 1942
Place Commisioned:
Fighter School 2, Zerbst
Dates Of Promotions:
First Lieutenant: July 1, 1944
Captain: September 1, 1944
Major: May 8, 1945
Lt. Colonel: December 12, 1960
Colonel: July 26, 1967

Duty stations:
First Station And Reporting Date: 10th Flying Regiment, Neukuhren, East Prussia (Near Köningsberg), October 1, 1940

Awards:
Knight's Cross(KC): October 19, 1943
KC w. Oak Leaves: March 2, 1944
KC w. Oak Leaves & Swords: July 4, 1944
KC w. Oak Leaves, Swords & Diamonds: July 25, 1944

---
Biography:
-
Source: Wikipedia
Hartmann was born in Weissach in Württemberg. Most of his childhood was spent in the Far East, as his father was a doctor working in China. Hartmann returned to Germany in 1928, and as many youths he joined the glider training programme of the fledgling Luftwaffe. His mother was one of the first female glider pilots, and he was taught to fly by his own mother. He got his pilot's license in 1939, and started his education in Luftkriegsschule II in late 1940.
Hartmann got his 'wings' in 1941 and was assigned to the fighter wing Jagdgeschwader 52 in October 1942. JG 52 was stationed on the Eastern Front in the Soviet Union and was equipped with the Messerschmitt Bf-109G.
III./JG 52's commander, Gruppenkommandeur Major Hubertus von Bonin, placed Hartmann under the experienced Oberfeldwebel Alfred Grislawski. After a few days of intensive mock combats and practice flights, Grislawski admitted that although Hartmann had much to learn regarding combat tactics, he was a quite talented pilot.
Hartmann was assigned to the 7./JG 52 to serve as wingman to the Luftwaffe ace Walter Krupinski, who became his mentor and friend. He shot down his first Soviet plane on 5 November 1942, an Il-2 from 7 GShAP. By the end of the year he had added only one more kill, and as with many top aces took some time to gradually establish himself as a consistently scoring fighter pilot.
On July 7, 1943, he shot down seven planes in a single day during the massive air dogfights during the Battle of Kursk. He had reached 50 kills by August 1943, and in that month claimed another 48 kills. He was then appointed Staffelkapitän of 9./JG 52 in September 1943. By late August 1943 Hartmann had 90 claims, but on 19 August in combat with Il-2's his aircraft was damaged and he was forced to land behind Soviet lines. Hartmann was captured and loaded into a truck to be taken to the nearest Army HQ but, feigning illness, he managed to jump off the truck and elude his two Russian guards. Moving under cover of darkness he successfully walked west back to the German lines. In October 1943, he claimed another 33 kills, and Hartmann was awarded the Ritterkreuz on 29 October 1943, after 148 kills. At the end of the year his toll stood at 159.
In 1944, Hartmann continued scoring at an even greater pace. His spectacular rate of kills raised a few eyebrows even in the High Command of the Luftwaffe; his claims were double- and triple-checked, and his performance closely monitored by an observer flying in his formation. In March, he reached 202 kills. By this time the Soviet pilots were familiar with Hartmann's radio call-sign of 'Karaya One' and the Soviet Command had put a price on the German pilot's head. The Russians nicknamed Hartmann 'Cherniye Chort' or 'Black Devil' as for a while Hartmann had added a black 'tulip' design around the spinner of his aircraft, though once this was recognised as Hartmann's fighter by his opponents they were often reluctant to stay and fight. Therefore this aircraft was often allocated to novices to fly in relative safety.
His 300th kill came on 24 August 1944, a day he shot down 11 aircraft. After reaching 300 victories, he was grounded by Luftwaffe chief of staff Hermann Göring, who was fearful of the effect on German morale should such a hero be lost. Hartmann, however, successfully lobbied to be reinstated as a combat pilot. He had over 300 kills and became one of only 27 German soldiers in WWII to receive the diamonds to his Knight's Cross.
On 10 September 1944, Erich Hartmann married his long-time teenage love, Ursula "Usch" Paetsch. Witnesses to the wedding included his friends Major Gerhard Barkhorn and Hauptmann Wilhelm Batz.
In January - February 1944, Hartmann claimed 50 kills in 60 days. Throughout 1944, Hartmann claimed 172 victories, an all-time record for one year. That June, he engaged American aircraft for the first time, downing four P-51 Mustangs over Romania, but the next month he was forced to bail out when other Mustangs ran his Messerschmitt out of fuel. On 23 August 1944 Hartmann became the top scoring fighter ace, surpassing fellow JG 52 pilot Gerhard Barkhorn.
In early 1945, Hartmann was asked by General Adolf Galland to join the Me-262 units forming to fly the new jet fighter. Hartmann declined the offer, preferring to remain with JG 52. At war's end Hartmann (as Gruppenkommandeur or CO of I./JG 52) and his unit surrendered to the 90th US Infantry Division.
Hartmann flew over 1400 missions resulting in 825 engagements, losing 14 aircraft from combat damage and forced landings. He was never wounded and never bailed out due to damage inflicted by enemy pilots. His kill tally included some 200 various single-engined Soviet-built fighters, more than 80 American-built P-39s, 15 Il-2 ground attack aircraft, and 10 twin-engined medium bombers. He often said that he was more proud of the fact that he had never lost a wingman in combat than he was about his rate of kills.
After his capture the U.S. Army handed Hartmann, his pilots, and groundcrew over to the Soviet Union, where he was imprisoned in accordance with the Yalta Agreements which stated that airmen and soldiers fighting the Russians had to surrender directly to them. Hartmann was falsely charged with war crimes (specifically, deliberate shooting of Russian civilians) and was subjected to harsh treatment during the early years of his imprisonment, including solitary confinement in total darkness. Hartmann, despite this, refused to confess to these charges, which were later dropped. More subtle efforts by the Soviet authorities to convert Hartmann to Communism also failed. He was also offered a post in the East German (DDR) Air Force which he refused. During his long imprisonment Hartmann's three-year-old son, whom he had never seen, died. After spending ten and a half years in Soviet POW camps he was among the last batch of POWs to be released in 1955 and returned to West Germany, where he wa s reunited with his wife Ursula, to whom he had written every day of the war.
When he returned to West Germany he became an officer in the West German Air Force, where he commanded West Germany's first all-jet unit, the Jagdgeschwader 71 "Richthofen", initially equipped with Canadair Sabre, followed later with U.S.-made Lockheed F-104 Starfighters. He also made several trips to the U.S., where he was trained on U.S. Air Force equipment.
Hartmann considered the Lockheed F-104 a fundamentally flawed and unsafe aircraft and strongly opposed its adoption by the West German Air Force. Although events subsequently validated his low opinion of the aircraft (282 crashes and 115 German pilots killed on the F-104 in non-combat missions; allegations of bribes culminating in the Lockheed scandal), his outspoken criticism proved unpopular with his superiors, and he retired in 1970.
Erich Hartmann died on September 20, 1993, at age 71 in Weil im Schönbuch. Russia exonerated Erich Hartmann in January 1997. It was stated that his conviction had not been lawful.

---
LUFTWAFFE RESOURCE CENTER
>
LUFTWAFFE ACES
>
PREVIOUS PAGE
---