---
LUFTWAFFE RESOURCE CENTER
>
LUFTWAFFE ACES
>
PREVIOUS PAGE
---
Hans "Assi" Hahn
---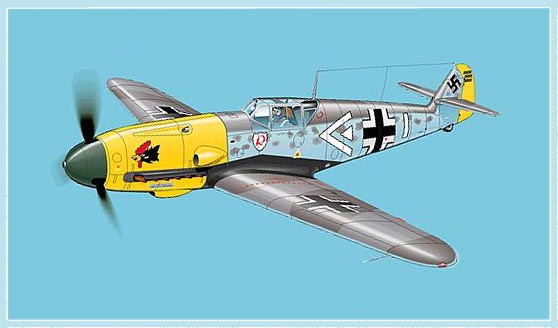 ---







Born:
April 14, 1914
Gotha, Germany

Ranks/Unit(s):
Hauptmann, Gruppenkommandeur
III/JG 2 "Richthofen"

Major, Gruppenkommandeur
II/JG 54 "Grunherz"

Theatre(s): Western/Eastern

Victories:
108
68 Western Front
40 Eastern Front
36 Probables

Total Sorties: 560

Decorations:
Ritterkreuz mit Eichenlaub
(The Knight's Cross with Oak Leaves)

Combat Aircraft Flown:
Bf 109E-F
Fw 190A

---
SERVICE:
Oberleutnant "Assi" Hahn transferred to JG 2 in 1939 flying Reich's Defense. Moving West, Hahn scored his first two victories, over RAF Hurricanes, in his first engagement with enemy aircraft on May 14, 1940 during The Battle of France.
After scoring his 20th victory, on Sept. 20, 1940, Hahn was awarded the Ritterkreuz and elevated from Staffelkapitän, 4. Staffel/JG 2 to Gruppenkommandeur, III/JG 2. For scoring his 41st victory on August 14, 1941, Hahn was awarded the Ritterkreuz mit Eichenlaub and promoted to Hauptmann. Later, Hahn promoted to Major and transferred to Russia as Gruppenkommandeur, II/JG 54 "Grunherz", arriving November 1, 1942.
Leading III Gruppe on February 21, 1943, Hahn suffered engine trouble and had to land in enemy-held territory, was captured and subsequently made a POW.
Hahn was held captive and not released by the Soviet Union until 1950.
---
REMARKS:
Hahn scored 68 victories in the West, including 62 RAF Fighter Command Spitfires and Hurricanes and 4 heavy bombers. In the East, Hahn scored 40 victories including 8 Russian fighters in one day on January 6, 1943.
---
LUFTWAFFE RESOURCE CENTER
>
LUFTWAFFE ACES
>
PREVIOUS PAGE
---