---
LUFTWAFFE RESOURCE CENTER
>
HELICOPTERS
>
PREVIOUS PAGE
---
Focke Wulf Fw 61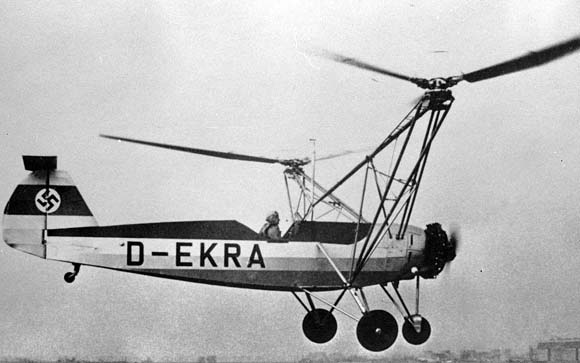 Focke Wulf Fw 61V-1
Type: Helicopter
Manufacturer: Focke Wulf
Crew: 1

First Flight: June 25, 1936
Number Built: 2

---
Powerplant:
Model: BMW Bramo 314E
Type: 7-cylinder radial
Number: 1 Horsepower: 160 hp

Dimensions:
Length: 7.29 m (23 ft 11.04 in)
Rotor diameter: 7.01 m (2 x 23 ft)
Disc Area: 415 Sq. Ft.
Disc Loading: 5.1 lb/sq. ft.
Height: 2.64 m (8 ft 7.92 in)


Weights:
Empty weight: 818 kg (1,803 lb)
Max takeoff weight: 950 kg (2,094 lb)

Performance
Maximum speed: 122 kph (66 kn, 76 mph)
Cruise speed: 90 kph (49 kn, 56 mph)
Range: 230 km (124 nmi, 143 mi)
Service ceiling: 3,427 m (11,243 ft)
Rate of climb: 3.50 m/s (690 ft/min)

---
The Focke-Wulf Fw 61 was the first functional helicopter, first flown in 1936. It was also known as the Fa 61, as Focke began a new company -- Focke Achgelis -- after development had begun.
Through his work on the C.19 and C.30 autogyros built by Focke-Wulf under license from Cierva Autogiro, as well as the experience gained through development of the Fw 186, Professor Henrich Focke had come to the conclusion that the inadequacies and limited serviceability of autogyros could only be eliminated by a real helicopter. He and engineer Gerd Achgelis started the design for this helicopter in 1932. A free-flying model, built in 1934 and propelled by a small two-stroke engine, brought the promise of success. Today, the model can be seen in the Deutsches Museum in Munich.
On 9 February 1935, Focke received an order for the building of a prototype, which was designated the Fw 61, however Focke referred to it as the F 61. Roluf Lucht of the technical office of the RLM extended the order for a second aircraft on 19 December 1935. The airframe was based on that of a well-tried training aircraft, the Focke-Wulf Fw 44 Stieglitz. A single, radial engine drove twin rotors, set on outriggers to the left and right of the fuselage - the counter-rotation of the two rotors solved the problem of torque-reaction as also shown by Louis Brüguet. The small horizontal-axis propeller directly driven by the engine was purely to provide the necessary airflow to cool the engine during low speed or hovering flight- it provided negligible forward thrust.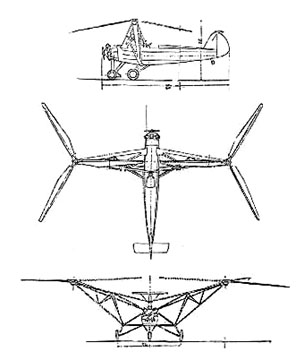 Focke Wulf Fw 61 3-View
Only two aircraft were produced. The first prototype, the V 1 D-EBVU, had its first free flight on 26 June 1936 with Ewald Rohlfs at the controls. By spring 1937, the second prototype, V 2 D-EKRA, was completed and flown for its first flight. On 10 May 1937, it accomplished its first autorotation landing with the engine turned off.
In February 1938, the Fw 61 was demonstrated by Hanna Reitsch indoors at the Deutschlandhalle sports stadium in Berlin, Germany. It subsequently set several records for altitude, speed and flight duration culminating, in June 1938, with an altitude record of 3,427 m (11,243 ft) and a straight line flight record of 230 km (143 mi).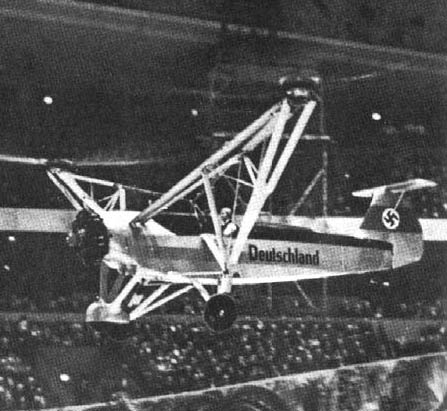 Focke Wulf Fw 61 flown by Hanna Reitsch indoors at the
Deutschlandhalle sports stadium in Berlin, Germany, February 1938.
Neither of these machines appear to have survived World War II, however a replica is on display at the Hubschraubermuseum (helicopter museum) in Bückeburg, Germany.
---
Sources:
Gunston, Bill & Wood, Tony -
Hitler's Luftwaffe
, 1977, Salamander Books Ltd., London
Wikipedia - Focke Wulf Fw 61
---
LUFTWAFFE RESOURCE CENTER
>
HELICOPTERS
>
PREVIOUS PAGE
---