---
LUFTWAFFE RESOURCE CENTER
>
FIGHTERS/DESTROYERS
>
PREVIOUS PAGE
---
Focke Wulf Fw 57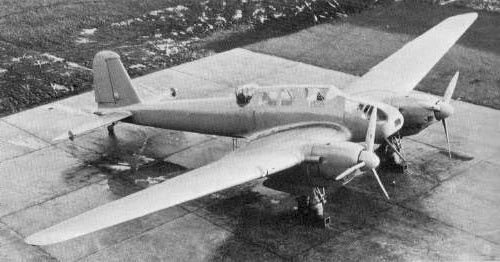 ---
Type: Kampfzerstörer fighter/bomber
Origin: Focke-Wulf Flugzeugbau GmbH
Models: Fw 57V1 to Fw 57V3
First Flight:1936
Service Delivery: None
Final Delivery: N/A


---

Engine:
Model: Daimler-Benz DB 600A
Type: Inverted V-12
Number: 2 Horsepower: 910 hp


---

Dimensions:
Wing span: 25m (82 ft. 0 in.)
Length: 16.40m (53 ft. 9.5 in.)
Height: 4.08m (13 ft. 5.25in.)
Wing Surface Area: N/A
Weights:
Empty: 6,800kg (14,991 lbs.)
Maximum: 8,300kg (18,298 lbs.)

Performance:
Maximum Speed: 404kph (251 mph)
Initial climb: N/A
Service Ceiling: 29,855 ft. (9100m)


---

Armament:
Two manually aimed 20mm MG FF Cannon mounted in the nose plus a third in a Mauser electric dorsal turret.

Bomb capacity:
Six 220lb. (100kg) bombs in internal bomb bay.

---
In 1934 the Reich Air Ministry (RLM) declared a requirement for a Kampfzerstorer (Bomber destroyer), a tactical multi-role fighter/bomber. Focke-Wulf submitted the Fw 57, Messerschmitt submitted the
Bf 110
and Henschel submitted the
Hs 124
. The Fw 57 was larger than its two competitors; it was heavier than and did not handle as well as the others.
The Fw 57 was a two-engine all-metal monoplane of conventional configuration, with a single fin and retractable tailwheel undercarriage. The pilot and navigator sit in tandem under a long canopy, the aft end of which consists of a gunner turret.
Three Fw 57 prototypes (V1-V3) were completed during 1936 but the Kampfzerstorer requirement was superseded by the Zerstorer and the Bf 110 proved to be the winner. All further research into the Fw 57 was abandoned and dropped shortly thereafter.

---

---
Sources:
Gunston, Bill & Wood, Tony -
Hitler's Luftwaffe
, 1977, Salamander Books Ltd., London
Wikipedia - Focke-Wulf Fw 57
---
LUFTWAFFE RESOURCE CENTER
>
FIGHTERS/DESTROYERS
>
PREVIOUS PAGE
---