---
LUFTWAFFE RESOURCE CENTER
>
HELICOPTERS
>
PREVIOUS PAGE
---
FLETTNER Fl 282 KOLIBRI
---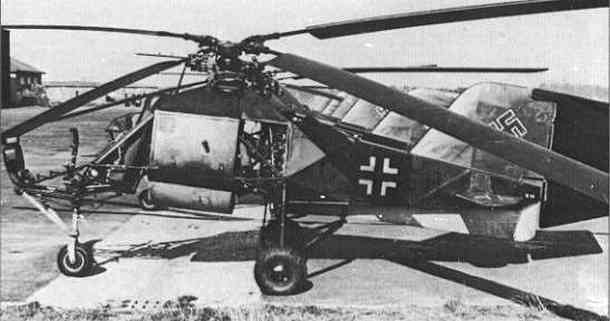 ---
Type: Observation helicopter
Origin: Anton Flettner GmbH
Models: A
First Flight: N/A
Service Delivery: 1942
Final Delivery: N/A


---

Powerplant:
Model: BMW-Bramo Sh 14A
Type: Seven-Cylinder radial
Horsepower: 160 hp


---

Dimensions:
Rotor Diameter: 11.96m (39 ft. 2.75 in.)
Number of rotor blades: 2
Number of rotors: 2
Fuselage Length: 6.56m (21 ft. 6.25 in.)
Height: 2.20m (7 ft. 2.5 in.)

Weights:
Empty: 760kg (1,675 lb.)
Maximum: 1000kg (2,205 lb.)

Performance:
Maximum Speed: 150 kph (93 mph)
Range (pilot only): 300 km (186 miles)
Initial climb: N/A
Service Ceiling: N/A


---

Armament:
None

---
Comments
The Kolibri "Humming Bird" was the first helicopter put into mass production and the only helicopter to make any significant contributions in World War II.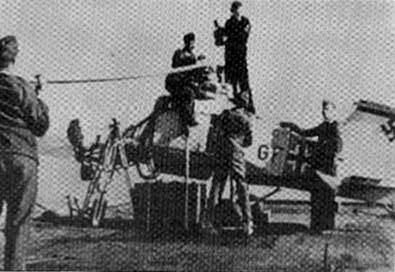 Flettner Fl 282 V6 Kolibri aboard the minelayer "Drache", Aegean Sea, Winter 1942-43
In October, 1942, two Fl 282 helicopters were delivered to Triest with their personnel, including Cpt. Claus von Vinterfeldt, Flettner's pilot Fuisting, other pilot (his name is unknown) and three technicians. Since November, 1942 until January/February, 1943, the first helicopter Fl 282 V6 GF+YF had been employed as the recco' craft over Aegean Sea, basing upon improvised helicopter carrier Kriegsmarine's minelayer "Drach" ("Schiff 50", ex-Yuogoslavian "Zmaj").
The second Fl 232 - CJ+SC was a reserve machine that stayed ashore.

---
Sources:
Gunston, Bill & Wood, Tony -
Hitler's Luftwaffe
, 1977, Salamander Books Ltd., London
---
LUFTWAFFE RESOURCE CENTER
>
HELICOPTERS
>
PREVIOUS PAGE
---