---
LUFTWAFFE RESOURCE CENTER
>
BOMBERS
>
PREVIOUS PAGE
---
Fieseler Fi 167
Design & Development
In early 1937, the Reichsluftfahrtministerium (German Ministry of Aviation) issued a specification for a carrier-based torpedo bomber to operate from Germany's first aircraft carrier, the Graf Zeppelin construction of which had started at the end of 1936. The specification was issued to two aircraft producers, Fieseler and Arado, and demanded an all-metal biplane with a maximum speed of at least 300 kph (186 mph), a range of at least 1,000 km and capable both of torpedo and dive-bombing. By the summer of 1938 the Fiesler design proved to be superior to the Arado design, the Ar 195.
After two prototypes (Fi 167 V1 and V2), twelve pre-production models (Fi 167 A-0) were built. These had only slight modifications from the prototypes. The aircraft exceeded by far all requirements, had excellent handling capabilities and could carry about twice the required weapons payload. Like the company's better known Fieseler Fi 156 Storch, the Fi 167 had surprising slow-speed capabilities; the plane would be able to land almost vertically on a moving aircraft carrier.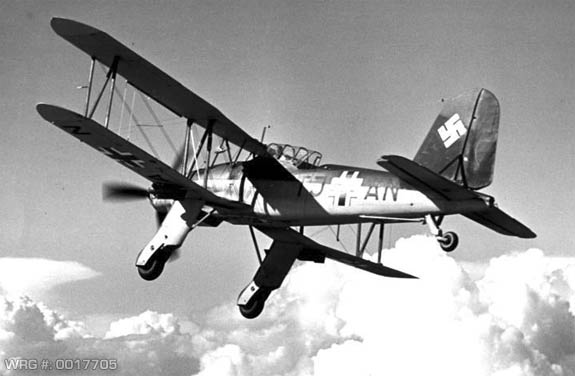 Fieseler Fi 167 A-0 (TJ+AN), 1938.
[Source: Bundesarchiv, Bild 146-1977-110-06/CC-BY-SA]
For emergency landings at sea the Fi 167 could jettison its landing gear, and airtight compartments in the lower wing would help the aircraft stay afloat at least long enough for the two-man crew to evacuate.
---
Sources:
Wikipedia
Green, William. Warplanes of the Third Reich. New York: Doubleday, 1972. ISBN 0-385-05782-2.
Savic, D. and Ciglic, B.
Croatian Aces of World War 2
, Oxford, 2002 ISBN 1-84176-435-3.
Green, William - Bombers & Reconnaissance Aircraft Volume 9, Macdonald, London 1967
---
LUFTWAFFE RESOURCE CENTER
>
BOMBERS
>
PREVIOUS PAGE
---