---
LUFTWAFFE RESOURCE CENTER
>
HELICOPTERS
>
PREVIOUS PAGE
---
FOCKE ACHGELIS Fa 223 DRACHE
---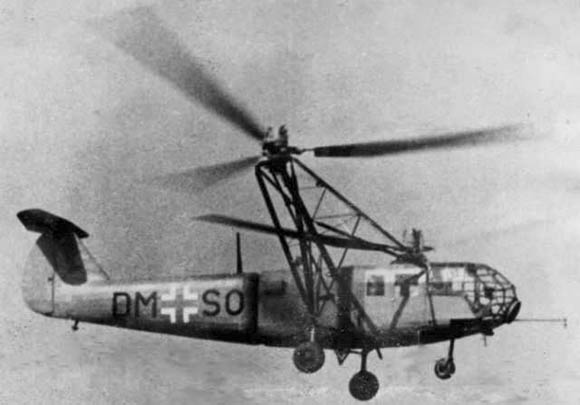 ---
Type: Transport Helicopter
Origin: Focke Achgelis Flugzeugbau GmbH
Models: E
First Flight: August 1940
Service Delivery: 1942
Final Delivery: N/A


---

Powerplant:
Model: BMW 301R
Type: nine-cylinder radial
Horsepower: 1,000 hp


---

Dimensions:
Rotor Diameter: 12.00m (39 ft. 4.5 in.)
Rotor Span (Turning): 24.50 (80 ft. 4¾ in.)
Number of rotor blades: 3
Number of rotors: 2
Distance Between Rotor hubs:
12.50m (41 ft. o.25 in.)
Fuselage Length: 12.25m (40 ft. 0¼ in.)
Height: N/A

Weights:
Empty: 3,175kg (7,000 lbs.)
Maximum: 4,309kg (9,500 lbs.)

Performance:
Maximum Speed: 182 kph (113 mph)
Cruising Speed: 175 kph (109 mph)
Initial climb: N/A
Range: 435 miles (700km) with aux. tanks.
Service Ceiling: N/A


---

Armament:
One MG 15 manually aimed from the nose.
---
Comments
The Focke-Achgelis Fa 223 Drache ("Dragon" in English) was a helicopter developed by Germany during World War II. A single 750 kilowatt (1,000 horsepower) Bramo 323 radial engine powered two three-bladed 11.9 meter (39 feet) rotors mounted on twin booms on either side of the 12.2 meter (40 ft) long cylindrical fuselage. Although the Fa 223 is noted for being the first helicopter to attain production status, Nazi production of the helicopter was hampered by Allied bombing of the factory and only 20 were built.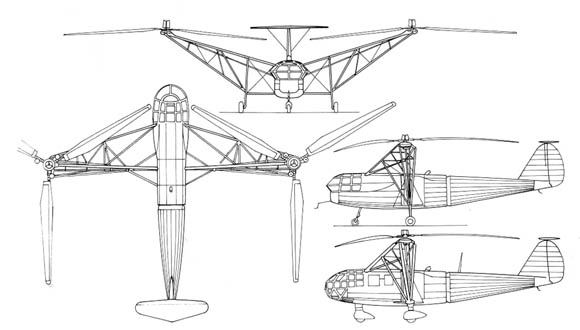 Focke Achgelis Fa 223 Drache
---
Sources:
Gunston, Bill & Wood, Tony -
Hitler's Luftwaffe
, 1977, Salamander Books Ltd., London
---
LUFTWAFFE RESOURCE CENTER
>
HELICOPTERS
>
PREVIOUS PAGE
---