---
LUFTWAFFE RESOURCE CENTER
>
SEAPLANES
>
PREVIOUS PAGE
---
DORNIER Do 22
---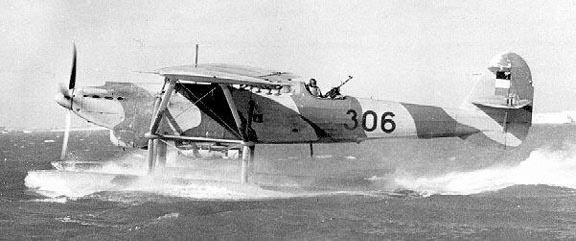 ---
Type: Torpedo-Bomber and recconnaissance seaplane
Origin: AG für Dornier-Flugzeug, Altenrhein (Switzerland).
Models: K (Kg: Greece, Kj: Yugoslavia, K1: Latvia)
and L (Landplane)
Crew: Three
First Flight:
Prototype: 1935
Production Aircraft: July 15, 1938
Do 22L: March 10, 1939
Final Delivery: 1939


---

Engine:
Model: Hispano-Suiza 12 Ybrs
Type: Inline piston engine
Number: One Horsepower: 860 hp


---

Dimensions:
Wing span: 16.20m (53 ft. 1¾ in.)
Wing Surface Area:
482.39 sq. ft. (45.00m²)
Length: 13.12m (43 ft. ½ in.)
Height: 4.85m (15 ft. 11 in.)

Weights:
Empty: 5,733 lbs. ( 2,600 kg)
Loaded: 8,818 lbs. (4,000 kg)

Performance:
Maximum Speed: 217 mph (350 kph)
Cruise Speed: N/A
Range: 1,429 miles (2,300km)
Initial Climb: N/A
Endurance: N/A
Service Ceiling: N/A

Armament:
Four 7.92mm MG 15 machine guns in nose, ventral and rear cockpit positions.

Bomb Load:
One 1,794 lb (800 kg) Torpedo or Four 100 lb. (50 kg) bombs.

---
Comments
The Do 22 was a warplane of outstanding performance for it's time, making the fact that it was built entirely for export peculiar. Built in Dornier factories in both Germany and Switzerland, with aircraft being sold to Greece, Yugoslavia, and Latvia. A prototype with conventional landing gear (L Model) was completed in March, 1939 (See Image 2).
---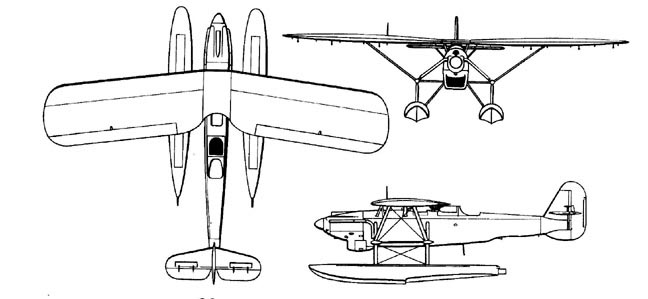 ---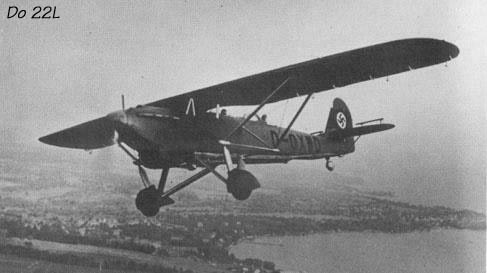 ---
Sources:
Gunston, Bill -
The Encyclodepia of the Worlds Combat aircraft
, 1976, Chartwell Books, Inc., New York
Gunston, Bill & Wood, Tony -
Hitler's Luftwaffe
, 1977, Salamander Books Ltd., London
Donald, David -
The Complete Encyclopedia Of World Aircraft
, 1997, Brown Packaging Books Ltd., London
---
LUFTWAFFE RESOURCE CENTER
>
SEAPLANES
>
PREVIOUS PAGE
---