---
LUFTWAFFE RESOURCE CENTER
>
GLIDERS
>
PREVIOUS PAGE
---
DFS 230
---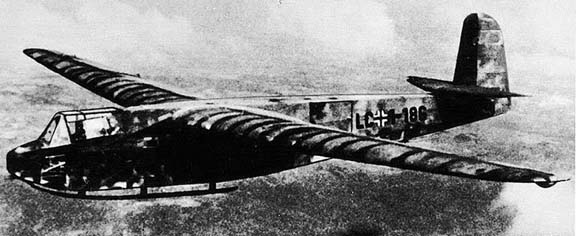 ---
IMAGE GALLERY
---
Type: Assault Glider
Origin:
Deutsches Forschungsinstitut für Segelflugzeug
Models: A-1, B-1, C-1, F-1
First Flight: Early 1937
Service Delivery: A-0: 1938; A-1: 1939
Final Delivery: Before 1941
Total Production: 1,022


---

Dimensions:
Wing span: 20.87m (68 ft. 5.5 in.)
Length: 11.24m (36 ft. 10.5 in.)
Height: 2.74m (8 ft. 11.75 in.)
Wing Surface Area: N/A

Weights:
Empty (A-1): 860 kg (1,896 lbs.)
Maximum (A-1): 2090 kg (4,608 lbs.)
Maximum (B-1): 2100 kg (4,630 lbs.)

Performance:
Normal Towing Speed: 210 kph (130 mph)
Max. Dive Speed: 290 kph (180 mph)

Armament:
Normally None

Variants:
B-1: with braking chute, Most Common model
C-1: with three solid fuel rockets in nose
reducing stopping distance to 30m
F-1: Enlarged model with seating for 15

---
Comments
Initiated in 1933 by Ernst Udet, the DFS 230 was on of the first assault gliders and helped to define the tactics involved in this method of attack. The DFS 230 was first flown in early 1937 by Hanna Reitsch and achieved fame in during the invasion of France and the low countries in 1940.
One of the most famous escapades of the DFS 230 was the capture of Fort Eban Emael on May 10, 1940. This modern fortress was considered impregnable but the Germans soon brought that misguided view to a crashing halt. 72 men landed in gliders and succeeded in sealing up the fort for 24 hours until relieved by the German Army. Total losses suffered by this daring assault group were 6 killed, 20 wounded.
The DFS 230 was used extensively in North Africa and was a vital component in the assault on Crete. The growing dominance of Allied air power highlighted the vulnerability of glider designs and the type suffered heavily.
The DFS 230's last significant use was to deliver the group of hand picked commandos led by Otto Skorzeny against the mountain-top hotel that was used to hold Mussolini.
---
Sources:
Gunston, Bill & Wood, Tony -
Hitler's Luftwaffe
, 1977, Salamander Books Ltd., London
---
LUFTWAFFE RESOURCE CENTER
>
GLIDERS
>
PREVIOUS PAGE
---