---
LUFTWAFFE RESOURCE CENTER
>
FIGHTERS/DESTROYERS
>
PREVIOUS PAGE
---
Blohm und Voss BV 40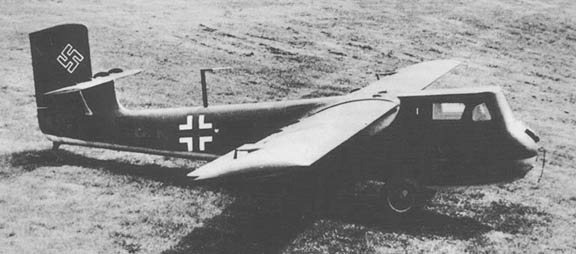 ---
Type: Point-defence interceptor glider
Origin: Blohm und Voss (Abt. Flugzeugbau)
Models: V1 to V19 and A
First Flight: May 1944
Service Delivery: None
Final Delivery: None


---

POWERPLANT: None


---

DIMENSIONS:
Wing span: 7.90m (25 ft. 11 in)
Length: 5.70m (18 ft. 8½ in.)
Height: 1.66m (5 ft. 4½ in.)
Wing Surface Area: N/A

WEIGHTS:
Empty: 1,844 lb. (836kg)
Maximum: 2,094 lb. (950kg)

PERFORMANCE:
Maximum Speed:
344 mph (553kph) when towed by a single Bf 109G
315 mph (507kph) when part of pair towed by Bf 109G
Anticipated Dive Speed In Free Flight:
560 mph (900kph)
Time to climb to 23,000 ft. (7000m):
– 12 mins. (1 Bv 40)
– 16.8 mins. (2 Bv 40's)


---

ARMAMENT:
Two 30mm MK 108 each with 35 rounds.

---
The Blohm & Voss BV 40 was a German glider fighter designed to attack Allied bomber formations. By eliminating the engine and positioning the pilot in a prone position (i.e., lying on his stomach), the cross-sectional area of the aircraft was much reduced, making the aircraft much harder for bomber gunners to hit.
Its key features were a very narrow and fairly heavily-armored cockpit, and two 30 mm (1.18 in) MK 108 cannons in the wing roots with very limited ammunition. The fuselage was constructed almost entirely of wood, a non-strategic material. During its short attack time, the glider would fire its weapons, then glide back to earth, although for a time, the idea of carrying a bomb on a cable behind the glider was entertained.
The first flight was in the May of 1944. Several prototypes were completed, but the project was stopped later in the year as the end of the war drew near.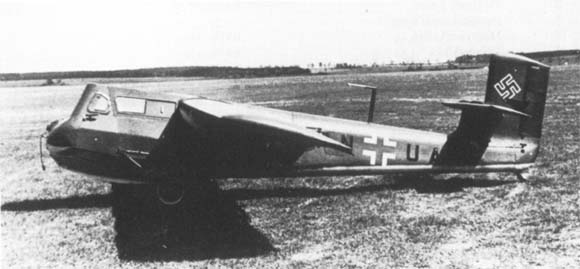 ---
Sources:
Gunston, Bill & Wood, Tony -
Hitler's Luftwaffe
, 1977, Salamander Books Ltd., London
Wikipedia - Blohm und Voss Bv 40
---
LUFTWAFFE RESOURCE CENTER
>
FIGHTERS/DESTROYERS
>
PREVIOUS PAGE
---