Blohm und Voss Bv 138
Operational History
In all, 227 examples of standard service variants of the BV 138 were built. The first such variant, BV 138 C-1, began service in March 1941. While non-standard variants carried a variety of armament, the standard variant featured two 20 mm MG 151/20 cannons, one in a power-operated bow turret and one in a power-operated stern turret, up to three 7.92 mm MG 15 machine guns, and a 13 mm MG 131 machine gun in the aft center engine nacelle. It could carry up to 500 kg (1,100 lb) of bombs or depth charges (under the starboard wing root only) or, in place of these, up to 10 passengers.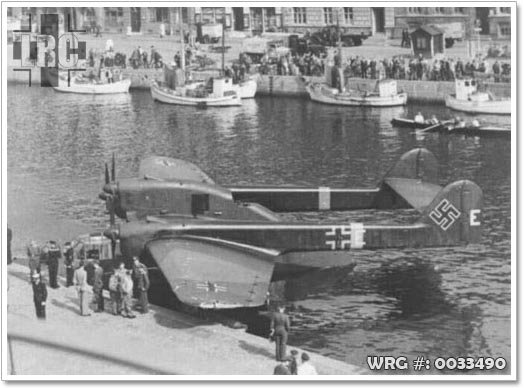 [Source: Unknown]
Both the B-1/U1 and C-1/U1 variants had racks under both wings to double the offensive load.
Some examples of the BV 138 were adapted to specialized roles. The Bv 138 was tested with the oft-used Walter HWK 109-500 Starthilfe RATO jettisonable rocket pod, used in pairs, for shorter takeoff performance. One anti-shipping variant carried FuG 200 Hohentwiel low-UHF band maritime search radar.
Bv 138MS minesweeper variant, fitted with a degaussing loop.
[Source: Unknown]
The BV 138 MS variant was converted for minesweeping, and carried magnetic field-generating degaussing equipment, including a hoop antenna with a diameter equal to the length of the fuselage, which encircled the hull and wings, which was also used on certain models of the Ju 52/3m trimotor transport used for the same duty.
Sources:
Wikipedia