---
LUFTWAFFE RESOURCE CENTER
>
ARMAMENTS
>
PREVIOUS PAGE
---
Bk 37 Bordkanone
---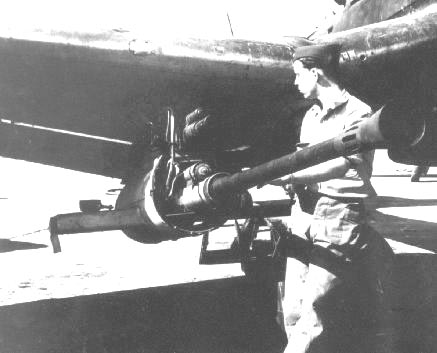 ---
Manufacturer: Rheinmetall Borsig
Designer: Rheinmetall Borsig
Designed: N/A
Produced: N/A
Action: Recoil

Caliber: 37mm
Weight: 295 kg (650 lb)
Length: 3.63 m (11 ft 11 in)
Cartridge: 37 mm x 263 mm
Rate of fire: 160 rpm
Muzzle velocity: 1,170 to 780 m/s (3,836 to 2,557 ft/s)
Projectile weight: APCR 380 g, HE 640 g, AT 685 g

---
The Bordkanone BK 37 ((on-)board cannon 37) was a 37mm anti-tank/bomber autocannon based on the earlier 37 mm Flak 18 made by Rheinmetall. It was mounted on World War II Luftwaffe aircraft such as the anti-tank or bomber-destroyer versions of the
Junkers Ju 87D-3 and G-2
,
Henschel Hs 129B-2/R3
,
Messerschmitt Bf 110G-2/R1-3
, and others. The cannon could be attached under the wings or fuselage of the aircraft as a self-contained gun pod with a 12-round magazine. It fired APCR (Tungsten hard core) ammunition or high explosive shells in 37x263B mm caliber at 160 rounds per minute.

---
[Source -
Wikipedia
]
---
LUFTWAFFE RESOURCE CENTER
>
ARMAMENTS
>
PREVIOUS PAGE
---