---
LUFTWAFFE RESOURCE CENTER
>
FIGHTERS/DESTROYERS
>
PREVIOUS PAGE
---
Messerschmitt Bf 110C-4
---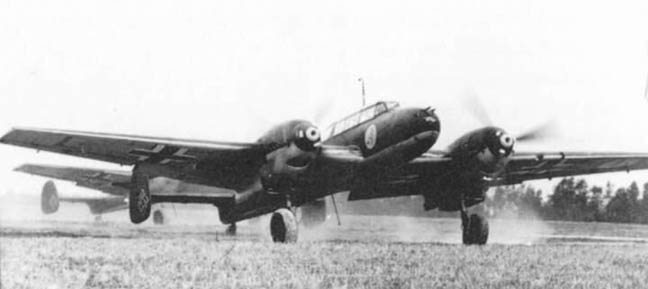 ---
Type: Day Fighter
Crew: Two
Origin: Bayerische Flegzeugwerke


---

Powerplant:
Model: Daimler-Benz DB 601N
Type: Liquid-cooled, inverted V12
Number: Two Horsepower: 1,200 hp

Fluids:
Fuel Capacity: 279 Imperial Gallons in wing cells
Type: N/A

Oil Capacity: 7.7 Imperial Gallons per engine


---

Dimensions:
Wing span: 53 ft. 4¾ in. (16.25m)
Length: 39 ft. 8½ in. (12.1m)
Height: 11 ft. 6 in. (3.5m)
Wing Surface Area: 413 Sq. ft.

Weights:
Empty: 4,500kg (9,920 lbs.)
Loaded: 7,000kg (15,430 lbs.)

Performance:
Maximum Speed: 349 mph (562 kph) at 22,965 ft (7,000m)
Range: 528 mls (850 km) at 304 mph (490kph) at 16,400 ft. (5,000m)
Initial climb: to 5,500m (18,045 ft.) in 8 minutes
Service Ceiling: 32,800 ft. (10,000m)


---

Armament:
Nose Fixed firing forward
Four 7.9mm MG 17 Machine Guns with 1,000 rounds per gun
And
Two 20mm MG FF Cannon with 180 rounds per gun

Rear Gun in flexible mounting in rear cockpit
One 7.9mm MG 15 Machine Gun with 750 rounds.

Avionics:
Racks for two 250kg bombs.

---
Sources:
Gunston, Bill -
The Encyclodepia of the Worlds Combat aircraft
, 1976, Chartwell Books, Inc., New York
Brown, Eric, Captain -
Wings of the Luftwaffe
, 1979, Airlife Publishing Ltd., Shrewsbury
Gunston, Bill & Wood, Tony -
Hitler's Luftwaffe
, 1977, Salamander Books Ltd., London
Donald, David -
The Complete Encyclopedia Of World Aircraft
, 1997, Brown Packaging Books Ltd., London
---
LUFTWAFFE RESOURCE CENTER
>
FIGHTERS/DESTROYERS
>
PREVIOUS PAGE
---