---
LUFTWAFFE RESOURCE CENTER
>
FIGHTERS/DESTROYERS
>
PREVIOUS PAGE
---
Arado Ar 65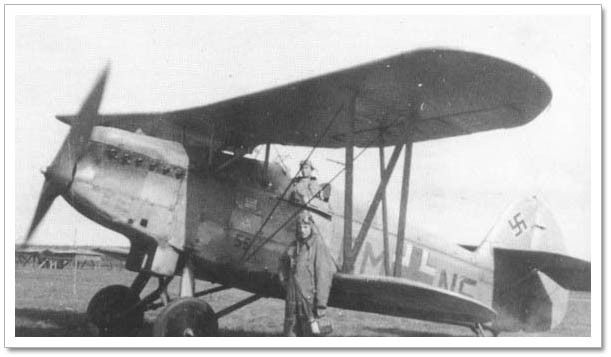 ---
Type: Single-seat day fighter
Origin: Arado Handelsgesellschaft Warnedmunde
Models: Ar 65A thru F
First Flight: 1931 (65A)
Service Delivery: Late 1933 (65E)
Final Delivery: N/A


---

POWERPLANT:
Model: BMW VI 7.3
Type: V-12 water cooled
Number: One Horsepower: 750 hp


---

DIMENSIONS:
Wing span: 11.20m (36 ft. 9 in.)
Length: 8.40m (27 ft. 6.75 in.)
Height: 3.42m (11 ft. 2.75in.)
Wing Surface Area: N/A

WEIGHTS:
Empty: 1,510kg (3,329 lbs.)
Maximum: 1,930kg (4,255 lbs.)

PERFORMANCE:
Maximum Speed: 300kph (186 mph)
Initial climb: 2,086 ft. (636m)/Minute
Service Ceiling: 24,935 ft. (7600m)


---

ARMAMENT:
Two fixed synchronized MG17 7.92mm machine guns mounted above engine.
---
The Arado Ar 65 was the single-seat biplane fighter successor to the Ar 64. Both looked very similar. The only major difference was the use of the 12-cylinder inline versus the 64's radial. The wingspan was also increased.
The Ar 65 appeared in 1931 and six models were built. The first three 65a-c were the prototypes while the 65d-f were the production models. The Ar 65d was delivered in 1933 and served alongside the Ar 64 in the two fighter groups - Fliegergruppe Döberitz and Fliegergruppe Damm. In 1935, the Ar 65 was reduced to a training aircraft. Production of the fighter was discontinued in 1936. But the next year, 12 of them were presented to Germany's ally - the Royal Bulgarian Air Force. The final production total was 85 aircraft.
VARIANTS:
- Ar 65a: Prototype, powered by a 559 kW (750 hp) BMW VI 7.3 12-cylinder
water-cooled engine. First flight in 1931.
- Ar 65b: Prototype, similar to the 65a but with minor structural changes.
- Ar 65c: Prototype, similar to the 65b but with minor structural changes.
- Ar 65d: Production model.
- Ar 65e: Similar to the 65d, but with the removal of the vertical fuselage magazine of
six 10 kg (22 lb) bombs.
- Ar 65f: Final production model. Similar to the 65e.

---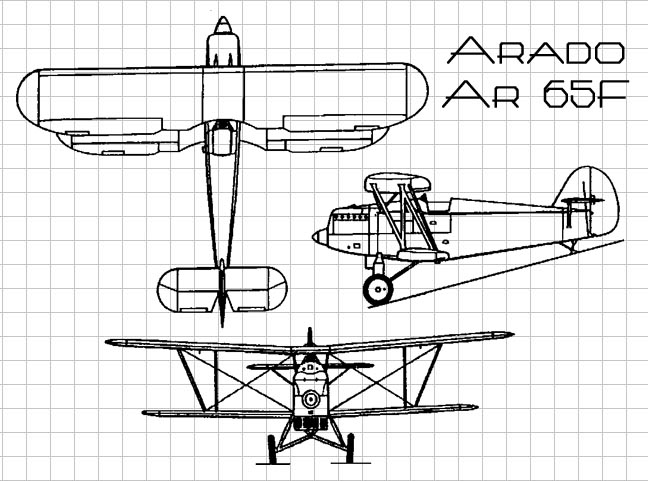 ---
Sources:
Gunston, Bill & Wood, Tony - Hitler's Luftwaffe
, 1977, Salamander Books Ltd., London

---
LUFTWAFFE RESOURCE CENTER > FIGHTERS/DESTROYERS > PREVIOUS PAGE

---