---
LUFTWAFFE RESOURCE CENTER
>
TRANSPORT/UTILITY
>
ARADO AR 232
>
PREVIOUS PAGE
---
ARADO Ar 232
Specifications

---
Type:: Tactical Transport
Origin: Arado Flugzeugwerke GmbH
Models: B
First Flight: April 1941
Service Delivery: Autumn 1942
Final Delivery: N/A


---

Powerplant(s):
Model: BMW-Bramo 323R-2 Fafnir
Type: Nine-cylinder radials
Number: Four Horsepower: 1,200 hp


---

Dimensions:
Wing span: 33.50m (109 ft. 10¾ in.)
Length: 23.52m (77 ft. 2 in.)
Height: 5.69m (18 ft. 8 in.)
Wing Surface Area: 142.60m² (1,535 ft².)

Weights:
Empty: 12,780kg (28,175 lbs.)
Maximum: 21,150kg (46,634 lbs.)


---

Performance:
Cruise Speed: 288kph (180 mph)
Payload: 9,921 lb. (4500kg)
Range with max. payload:
— 660 miles (1050km)
Min. take-off at gross wt: 3,100 ft. (945m)

Armament:
One Mg 131 mounted in the nose.
One Mg 131 mounted in the rear.
One 20mm Mg 151 mounted in an EDL 151 Dorsal turret.
Eight MG 34 infantry machine guns mounted in the sides.

---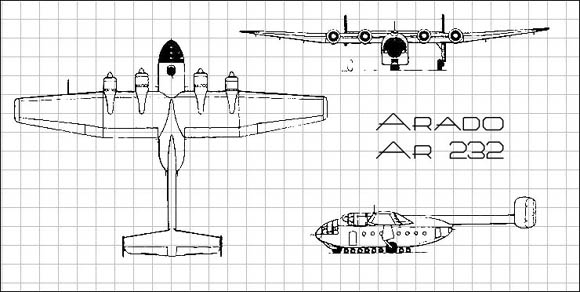 ---
Sources:
Hitler's Luftwaffe
Wikipedia - Arado Ar 232
---
LUFTWAFFE RESOURCE CENTER
>
TRANSPORT/UTILITY
>
ARADO AR 232
>
PREVIOUS PAGE
---