---
WARBIRDS RESOURCE GROUP
>
IJARC
>
EXPERIMENTAL
>
PREVIOUS PAGE
---
Rikugun Ki.93
---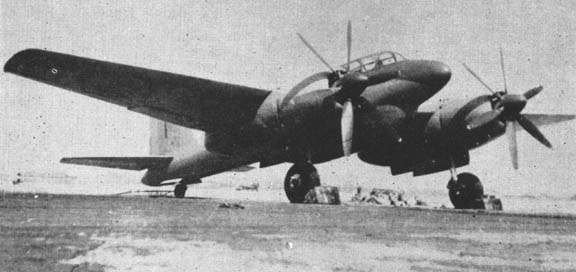 ---
Type: Heavy Interceptor and Ground Attack Fighter
Origin: Rikugun Kokugijutsu Kenkyujo (Army Aerotechnical Research Institure)
Allied Code Name: N/A
Crew: Two
First Flight: April 1945
Number Produced: 2 Prototypes


---

Powerplant:
Model: Mitsubishi Ha. 214
Type: 18-Cylinder radial air cooled.
Number: One Horsepower: 1,970 hp

Propeller: Six-Bladed constant speed airscrew.


---

Dimensions:
Wing span: 62 ft. 4 in.
Length: 46 ft. 7-5/8 in.
Height: N/A
Wing Surface Area: 589.323 Sq. Ft.

Weights:
Empty: 16,945 lbs.
Loaded: 23,514 lbs.

Performance:
Maximum Speed at 27,230 ft.: 388 mph
Economical Cruise Speed: 217 mph
Time to 9,840 ft.: 4 min. 18 sec.
Time to 19,685 ft.: 9 min. 3 sec.
Service Ceiling: 39,535 ft.
Range (External Fuel): 1,865 miles
Maximum Endurance: 6 Hours


---

Armament:
One 57mm Ho-401 cannon.
Two 20mm Ho-5 cannon.
One 12.7mm Ho-103 machine gun on flexible mount.

Bomb Load:
Two 550 lb. bombs.

---
---
Sources:
Green, William -
War Planes Of The Second World War - Fighters - Vol. 3
, 1964, Doubleday And Company, Inc., New York
---
WARBIRDS RESOURCE GROUP
>
IJARC
>
EXPERIMENTAL
>
PREVIOUS PAGE
---