---
WARBIRDS RESOURCE GROUP
>
IJARC
>
MISCELLANEOUS
>
PREVIOUS PAGE
---
Yokosuka MXY-7 Ohka
"Cherry Blossom"
---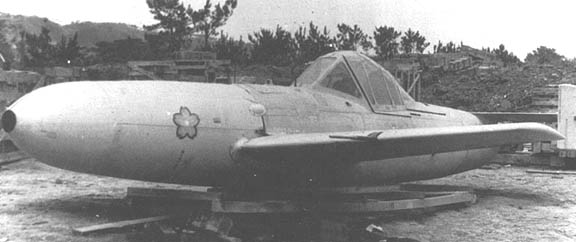 ---
Type: Piloted surface attack missile
Origin: Yokosuka
Crew: One
Allied Code Name: Baka (Jap. for fool)
Models: Model 11 and Model 22
First Flight:
Unpowered: October 1944
Powered: November 1944
Service Delivery:
Final Delivery: March 1945
Production: 755 Model 11, 50 Model 22


---

Powerplant:
Model 11
One Three-Barrel Type 4 Model 20 Rocket Motor
Thrust: 1,764 lb (800kg) at sea level

Model 22
TSU-11 Jet engine with 100-hp piston engine compressor
Thrust: 441 lb (200kg)


---

Dimensions:
Wing Span:
Model 11: 16 ft. 4¾ in. (5m)
Model 22: 13 ft. 6¼ in. (4.12m)
Length:
Model 11: 19 ft. 10¾ in. (6.07m)
Model 22: 22 ft. 6¾ in. (6.88m)
Height (Both): 3 ft. 11¼ in. (1.16m)
Wing Area: 64.59 sq. ft. (6.00m²)

Weights:
Empty (No Warhead):
Model 11: 970 lb (440 kg)
Model 22: 1,202 lb (545 kg)
Loaded:
Model 11: 4,718 lb (2140 kg)
Model 22: 3,200 lb (1450 kg)

Performance:
Max. Speed-level flight:
Model 11: 860 km/h (534 mph)
Model 22: 480 km/h (300 mph)
Final dive speed (both):
1000 km/h (621 mph)
Launch Altitude: 8200m (27,000 ft.)
Max. Range (Model 11): 88 km (55 miles)


---

Armament:
Model 11
Warhead: Tri-Nitroaminol
Weight: 2,645 lb. (1200 kg)

Model 22
Warhead: Tri-Nitroaminol
Weight: 1,323 lb. (600 kg)

---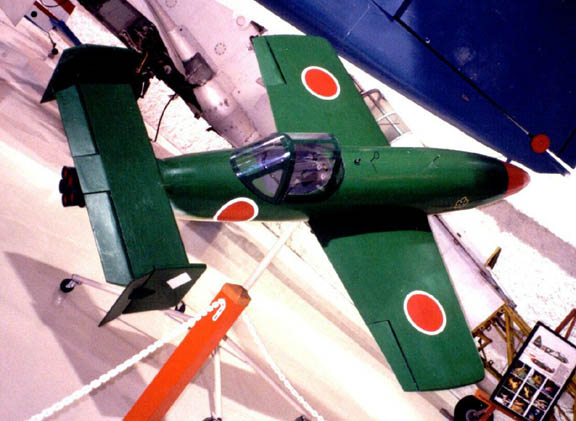 Ohka at the Lone Star Flight Museum
[Source: Lee Sloan Collection]

---
Comments:
With the success of the Kamikaze the Imperial Navy decided to build an aircraft specifically designed for the task. The Ohka "Cherry Blossom" was to be carried to within range of the target by a Mitsubishi G4M that had it's bomb bay doors removed as well as other modifications. When the parent aircraft had reached roughly 50 from the target the Ohka was released and the pilot would hold the aircraft in a fast glide, around 290 mph, until a target had been chosen. The pilot would then ignite the rocket motor and push the aircraft over into a steep dive. Most of these aircraft failed to reach thier target, the parent aircraft proving to be vulnerable to interception. Numerous variants were proposed, including a submarine launched version but none saw service.
---
Sources:
The Complete Encyclopedia of World Aircraft
, 1997, Barnes & Nobles Books, ISBN: 0 7607 0592 5
Gunston, Bill -
The Encyclodepia of the Worlds Combat aircraft
, 1976, Chartwell Books, Inc., New York
---
WARBIRDS RESOURCE GROUP
>
IJARC
>
MISCELLANEOUS
>
PREVIOUS PAGE
---