---
WARBIRDS RESOURCE GROUP
>
IJARC
>
EXPERIMENTAL
>
PREVIOUS PAGE
---
NAKAJIMA Ki.87
---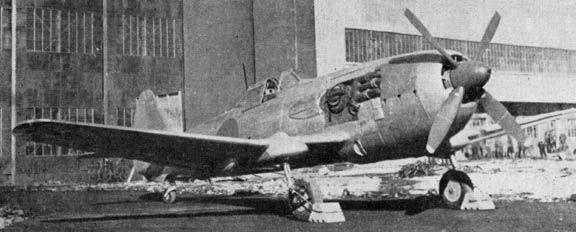 ---
Type: Single seat high altitude interceptor fighter
Origin: Nakajima
Allied Code Name: N/A
First Flight: April 1945
Number Produced: 1 Prototype


---

Powerplant:
Model: Mitsubishi Ha. 215 (Ha.44/21)
Type: 18-Cylinder radial air cooled.
Number: One Horsepower: 2,400 hp


---

Dimensions:
Wing span: 44 ft. 0.5 in.
Length: 38 ft. 4.75 in.
Height: 14 ft. 1.25 in.
Wing Surface Area: 279.862 Sq. Ft.

Weights:
Empty: 9,672 lbs.
Loaded: 12,416 lbs.
Maximum: 13,448 lbs.

Performance:
Maximum Speed at 36,090 ft.: 433 mph (at 12,416 lb.)
Maximum Speed at 36,090 ft.: 433 mph (at 13,448 lb.)
Time to 19,685 ft.: 7 min. 44 sec.
Service Ceiling: 42,175 ft.
Range: N/A


---

Armament:
Two 30mm type Ho-105 cannon.
Two 20mm type Ho-5 cannon.

---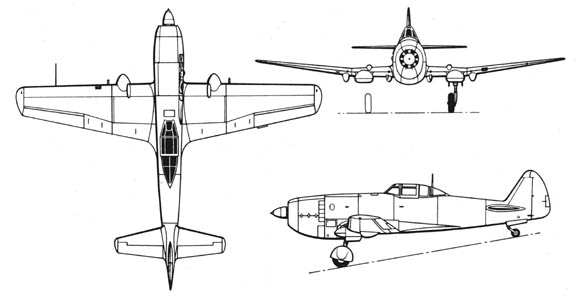 ---
Comments:
With the arrival of the B-29 over the Japanese islands, the inability of the Japanese fighter force to intercept these high flying aircraft became painfully apparent. Nakajima had been investigating the the possibility of mating an exhaust-driven turbo-supercharger with a large radial engine as part of an official design study. With the appearance of the Superfortresses these studies took on a definate urgency.
The sole prototype flew in April of 1945 and plans for the production of 500 aircraft were laid down. The end of the war happened before any additional prototypes or production aircraft were built.
---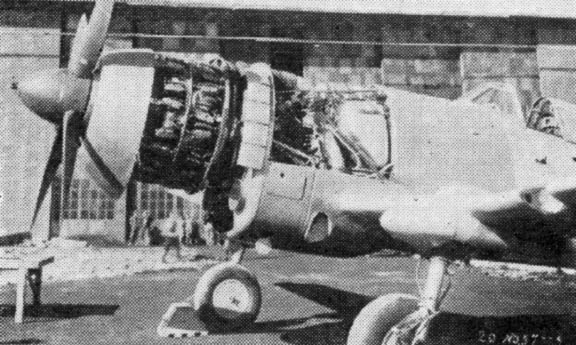 ---
Sources:
Green, William -
War Planes Of The Second World War - Fighters - Vol. 3
, 1964, Doubleday And Company, Inc., New York
---
WARBIRDS RESOURCE GROUP
>
IJARC
>
EXPERIMENTAL
>
PREVIOUS PAGE
---