---
WARBIRDS RESOURCE GROUP
>
IJARC
>
EXPERIMENTAL
>
PREVIOUS PAGE
---
MITSUBISHI Ki.83
---

---
Type: Long-range high-altitude interceptor
Origin: Mitsubishi Jokogyo K. K.
Allied Code Name: N/A
Crew: One
First Flight: October 1944
Service Delivery: None
Number Produced: 4 Prototypes


---

Powerplant:
Model: Mitsubishi Ha.211ru
Type: 18-Cylinder radial air cooled.
Number: Two Horsepower: 2,200 hp


---

Dimensions:
Wing span: 50 ft. 10¼ in.
Length: 41 ft. 0 in.
Height: 15 ft. 1 in.
Wing Surface Area: 362.851 Sq. Ft.

Weights:
Empty: 13,249 lbs.
Loaded: 19,687 lbs.

Performance:
Maximum Speed at 32,810 ft.: 438 mph
Maximum Speed at 16,400 ft.: 416 mph
Cruising Speed at 13,125 ft.: 280 mph
Time to 32,810 ft.: 10 min. 30 sec.
Service Ceiling: 41,535 ft.
Typical Range: 1,213 miles
Maximum Range: 1,740 miles
Typical Endurance: 4.34 hours


---

Armament:
Two 30mm Ho-105 cannon & Two 20mm Ho-5 cannon

Bomb load:
Two 110 lb. bombs

---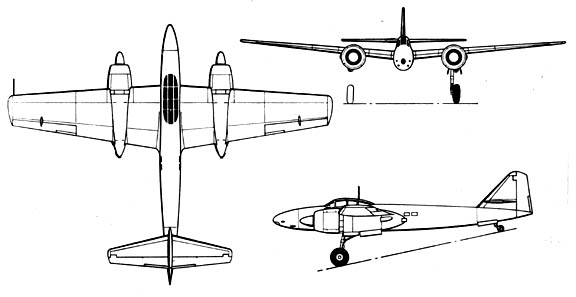 ---
Comments:
Mitsubishi Jokogyo K. K. was awarded a contract in 1943 by the Japanese Army Air Force for a long range high altitude fighter with heavy armament. The design team headed by Tomio Kubo set about designing a single engine aircraft but a single powerplant of sufficient power was not available so a twin engineed configuration was adopted.
The design proved to be very promising and proved to be highly manueverable. The Japanese Naval Air Force showed an interest in the design and plans were set for them to receive several aircraft for use as land based interceptors.
Four prototypes were completed and were in the midst of testing at wars end.
---
Sources:
Green, William -
War Planes Of The Second World War - Fighters - Vol. 3
, 1964, Doubleday And Company, Inc., New York
---
WARBIRDS RESOURCE GROUP
>
IJARC
>
EXPERIMENTAL
>
PREVIOUS PAGE
---