---
WARBIRDS RESOURCE GROUP
>
IJARC
>
BOMBERS
>
PREVIOUS PAGE
---
Mitsubishi Ki-67 Hiryu
"Flying Dragon"
---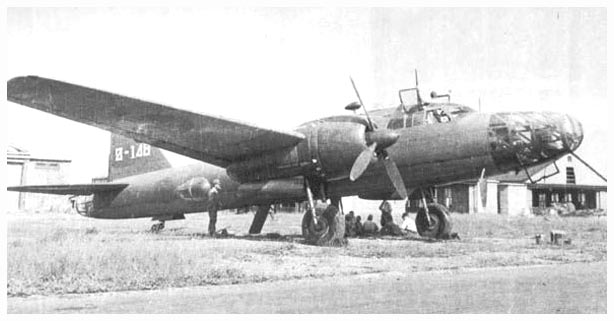 ---
Type: Heavy Bomber, Heavy Escort Fighter
Origin: Mitsubishi
Crew: Six/Eight
Allied Code Name: Peggy
Models: Ki-67-Ia, Ib and Ki-67-II, and Ki-109
First Flight: Early 1943, Ki-109: August 1944
Service Delivery: April 1944
Final Delivery: N/A
Production: 698
Mitsubishi: 606
Kawasaki: 91
Army Air Arsenal at Tachikawa: 1


---

Powerplant:
Model: Mitsubishi Ha-104
Type: 18-cylinder two-row radial engine
Number: Two Horsepower: 1,900 hp


---

Dimensions:
Wing Span: 73 ft. 9.75 in. (14.55m)
Length: 61 ft. 4.25 in. (18.7m)
Height: 18 ft. 4.5 in. (5.60m)
Wing Area: 708.83 sq. ft. (65.85m²)


Weights:
Empty (Ki-67-Ib): 8,649 kg (19,068 lb)
Loaded: 13,765 kg (30,346 lb)

Performance:
Max. Speed: 537 km/h (334 mph)
Initial Climb: 1,476 ft/min (450 m/min)
Service Ceiling: 9470m (31,070 ft.)
Max. Range: 1000 km (621 miles)
With full bomb load and 2 hr. reserve.

Armament: Ki-67-Ia & Ki-67-Ib
One 20mm Ho-5 cannon in electric dorsal turret
One 12.7mm Type 1 manually aimed in nose
One 12.7mm Type 1 manually aimed in tail
One 12.7mm Type 1 manually aimed in each beam

Bomb Load:
1,764 lb. (800 kg) of bombs carried internally
---
Comments:
This heavy bomber design was in response to a 1941 Army specification requesting a high speed heavy bomber. The Ki-67 not only met the speed requirement but did so while achieving the manueverability of a fighter. In addition, the Hiryu "Flying dragon" also sported armour and self sealing fuel tanks and was perhaps one of the best all around bomber produced by Japanese. The aircraft could be looped and it's turning radius often exceed some fighter designs. This performance inspired the development of the type into a heavy fighter, which in addition to more powerful turbocharged engines, would have a hand loaded 75mm cannon and 15 rounds of ammunition. Unfortunately (or fortunately if you are a B-29 crewman) the more powerful engines were not available and the Ki-109 was equipped with standard engines which would not allow the aircraft to reach sufficient altitude to attack the Superfortresses.
---

---
Sources:
The Complete Encyclopedia of World Aircraft
, 1997, Barnes & Nobles Books, ISBN: 0 7607 0592 5
---
WARBIRDS RESOURCE GROUP
>
IJARC
>
BOMBERS
>
PREVIOUS PAGE
---