---
WARBIRDS RESOURCE GROUP
>
IJARC
>
EXPERIMENTAL
>
PREVIOUS PAGE
---
Kyushu J7W1 Shinden
---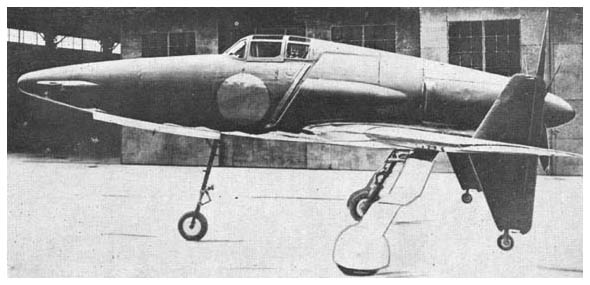 ---
Type: Short Range Interceptor Fighter
Origin: Kawasaki
Allied Code Name: N/A
Crew: One
First Flight: August 3, 1945
Service Delivery: None
Number Produced: 2 Prototypes


---

Powerplant:
Model: Mitsubishi Ha.43-42
Type: 18-Cylinder radial air cooled.
Number: One Horsepower: 2,130 hp


---

Dimensions:
Wing span: 36 ft. 5½ in.
Length: 30 ft. 4½ in.
Height: 12 ft. 10-3/8 in.
Wing Surface Area: 220.66 Sq. Ft.

Weights:
Empty: 7,639 lbs.
Loaded: 10,913 lbs.
Maximum: 11,526 lbs.

Performance:
Maximum Speed at 28,540 ft.: 466 mph
Economical Cruising Speed at 13,100 ft.: 263 mph
Time to 26,250 ft.: 10 min.
Service Ceiling: 39,000 ft.
Range (Internal Fuel): N/A


---

Armament:
Four 30mm Type 5 cannon
Ammunition: 66 rounds per gun

Bomb load:
Four 66 lb. or 132 lb. bombs

---
Image Gallery:
---
Comments:
Based on earlier design studies, the Shinden was conceived of by the Yokosuka Air Technical Depot in early 1943. The canard design had been proven by the J.N.A.F Aeronautical Engineering Arsenal using three tail first gliders (designated MXY6) built by the Chigasaki Manufacturing Company in 1943.
Originally recieving the designation of X-18, the design eventually ras redesignated the J7W1 and allocated the name Shinden (Magnificent Lightning). The Japanese Naval Air Force was so impressed with the design that the type was ordered into production before the first prototype was completed. The production contract was awarded to Kyushu Hikoki K.K. and construction of the two prototypes was commenced on June 4, 1944 at their Zasshonokuma factory.
The first prototype flew for the first time on August 3, 1945 at the Mushiroda J.A.A.F. base in Northern Kyushu. Both the Kyushu Zasshonokuma factory and Nakajima's Handa factory had reached advance tooling stages by this time with an estimated production rate of 150 aircraft per month.
Initial flight tests proved successful with only minor, and correctable, problems encountered. The second prototype was barely completed but never flew since the war ended Japanese combat aircraft development.
---
Sources:
Green, William -
War Planes Of The Second World War - Fighters - Vol. 3
, 1964, Doubleday And Company, Inc., New York
---
WARBIRDS RESOURCE GROUP
>
IJARC
>
EXPERIMENTAL
>
PREVIOUS PAGE
---