---
WARBIRDS RESOURCE GROUP
>
IJARC
>
EXPERIMENTAL
>
PREVIOUS PAGE
---
KAWASAKI Ki.64 "Rob"
---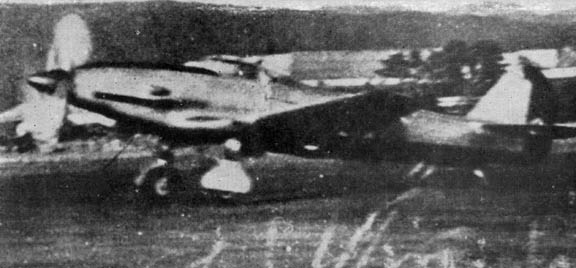 ---
Type: Single seat interceptor fighter
Origin: Kawasaki
Allied Code Name: Rob
First Flight: December 1943
Number Produced: 1 Prototype


---

Powerplant:
Model: Kawasaki Ha.201*
Type: 24-Cylinder inverted Vee liquid cooled.
Number: One Horsepower: 2,350 hp
*Two Ha.40 (DB 601A) engines coupled together.


---

Dimensions:
Wing span: 44 ft. 3½ in.
Length: 36 ft. 2¼ in.
Height: 10 ft. 5¼ in.
Wing Surface Area: 301.389 Sq. Ft.

Weights:
Empty: 8,929 lbs.
Loaded: 11,244 lbs.

Performance:
Maximum Speed at 16,400 ft.: 429 mph
Time to 16,400 ft.: 5 min. 30 sec.
Service Ceiling: 39,370 ft.
Range: 620 miles


---

Armament: Proposed
Four 20mm type Ho-5 cannon.

---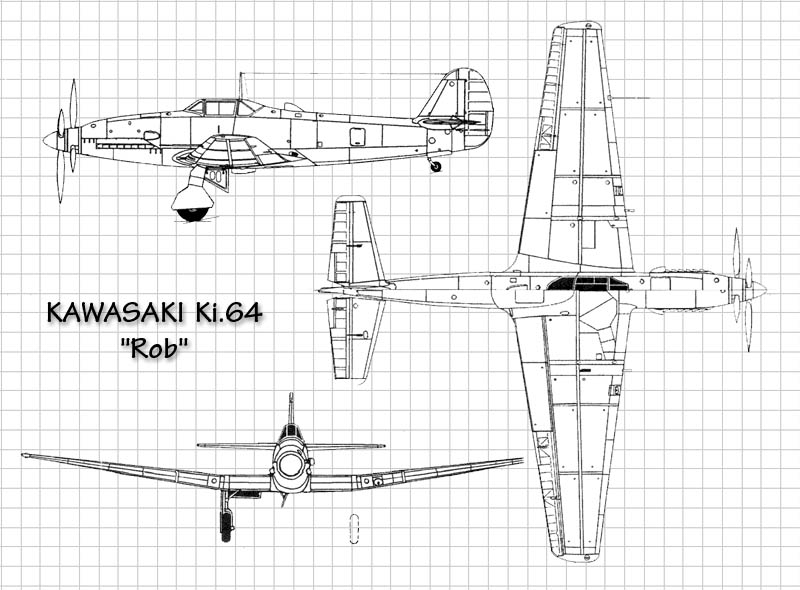 ---
Comments:
The Ki.64 was developed for the Japanese Army Air Force and was one of the most innovative Japanese designs of the war. Original conceived of in 1939, the Ki.64 had a contrarotating propellor coupled to tandem mounted engines and equipped with an evaporative cooling system.
While oriinally proposed in 1939, development didn't begin until October 1940 with the prototype being completed in December 1943. Unfortunately the prototype was damaged during testing which delayed further development. Problems also arose with the contra-rotating propeller which were never really overcome. Priorities later in the war caused the project to be shelved.
---
Sources:
Green, William -
War Planes Of The Second World War - Fighters - Vol. 3
, 1964, Doubleday And Company, Inc., New York
---
WARBIRDS RESOURCE GROUP
>
IJARC
>
EXPERIMENTAL
>
PREVIOUS PAGE
---