---
WARBIRDS RESOURCE GROUP
>
IJARC
>
EXPERIMENTAL
>
PREVIOUS PAGE
---
KAWASAKI Ki.60
---

---
Type: Single seat heavy fighter
Origin: Kawasaki Kokuki Kogyo K.K.
Allied Code Name: N/A
First Flight: March 1941
Service Delivery: See comments
Number Produced: 3 Prototypes


---

Powerplant:
Model: Daimler-Benz DB 601A*
Type: 12-Cylinder inverted Vee liquid cooled.
Number: One Horsepower: 1,100 hp
*Licensed built by Kawasaki.

---

Dimensions:
Wing span: 34 ft. 5½ in.
Length: 27 ft. 9½ in.
Height: 9 ft. 10 in.
Wing Surface Area:
1st Prototype: 171.146 Sq. Ft.
2nd & Third Prototype: 174.376 Sq. Ft.

Weights:
Empty: 4,740 lbs.
Loaded: 6,063 lbs.

Performance:
Maximum Speed at 16,400 ft.: 348 mph
Time to 16,400 ft.: 8 min.
Service Ceiling: 32,810 ft.
Range: N/A


---

Armament:
Two 20mm Mauser MG 151 cannon.
Two or Four 12.7mm Type 1 machine guns.

---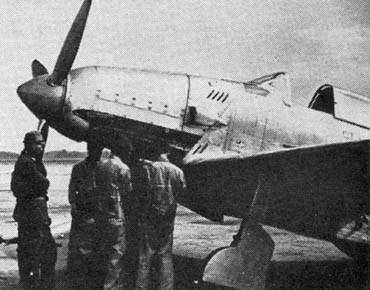 ---
Comments:
The early months of World War II in Europe showed the Japanese that there would be a possible need for a heavier fighter. Going against the Japanese trend of manoeuverability over all other attributes, the Ki 60 design focused on speed and rate of climb with a heavy armament.
A development contract was placed with Kawasaki in February 1940 for a cannon armed fighter with a liquid cooled engine. Kawasaki had recieved a license to build the Daimler-Benz line of engines and it was decided that the new aircraft should be designed around the DB 601A.
The first prototype suffered from high wing loading which resulted in excessive take-off and landing speeds. The second and third prototypes had revised wings but this did little to improve the aircrafts shortcomings. The pilots of the Japanese Army Air Force were less than impressed with the performance of the aircraft and demanded changes. Over-all this aircraft performed dismally and combined with a lack of firm support for a heavy fighter concept the design was abandoned in late 1941.
---
Sources:
Green, William -
War Planes Of The Second World War - Fighters - Vol. 3
, 1964, Doubleday And Company, Inc., New York
---
WARBIRDS RESOURCE GROUP
>
IJARC
>
EXPERIMENTAL
>
PREVIOUS PAGE
---