---
WARBIRDS RESOURCE GROUP
>
IJARC
>
BOMBERS
>
PREVIOUS PAGE
---
Kawasaki Ki-102 "Randy"
---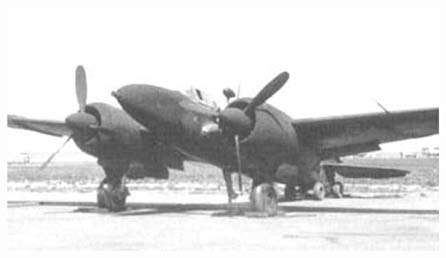 ---
Type: Close Support Aircraft
Origin: Kawasaki
Crew: Two
Allied Code Name: Randy
Models: Ki 102 A, b, c & Ki-108
First Flight: 1944
Service Delivery: N/A
Final Delivery: N/A
Production: N/A


---

Powerplant:
Ki-102b:
Model: Mitsubishi Ha-112-II
Type: Radial
Number: One Horsepower: 1,500 hp


---

Dimensions:
Wing Span: 51 ft. 1 in. (15.57m)
Length: 37 ft. 6¾ in. (11.45m)
Height: 12 ft. 1¾ in. (3.70m)
Wing Area: 365.98 sq. ft. (34.00m²)

Weights: Ki-48-IIb
Empty: 10,913 lb. (4950 kg.)
Loaded: 16,094 lb. (7300 kg.)


---

Performance: Ki-48-IIb
Max. Speed: 360 mph (580 kph) at 19,685 ft.
Service Ceiling: 36,090 ft. (11,000m)
Range: 2000 km

Armament:
Ki-102a: One 37mm Ho-203 cannon and two 20mm Ho-5 cannon.

Ki-102b: One 57mm Ho-401 cannon, two 20mm Ho-5 cannon, and one rear firing 12.7mm Ho-103 (Type 1) machine gun.

Ki-102c: Two 30mm Ho-105 cannon and two 20mm Ho-5 cannon.

Payload: All variants
Two drop-tanks or two 551 lb. (250 kg) bombs.


---

Variants:
Ki-102: Three prototypes and 20 pre-production aircraft.

Ki-102a: High-altitude fighter version. Converted from six pre-production aircraft.

Ki-102b: Ground attack version.

Ki-102c: Proposed night-fighter version with increased wing span, lengthened fuselage, revised tail surfaces, and primative AI radar. Only two built.

Ki-108: Two protoptypes built from Ki-102b airframes. Developed as a high altitude fighter with pressurised cabin. These included the structural improvements of the Ki-102c and were still in the testing stages at wars end.

---
Sources:
The Complete Encyclopedia of World Aircraft
, 1997, Barnes & Nobles Books, ISBN: 0 7607 0592 5
---
WARBIRDS RESOURCE GROUP
>
IJARC
>
BOMBERS
>
PREVIOUS PAGE
---